Video game juggernaut Activision Blizzard reported second quarter earnings on Tuesday which far exceeded expectations, primarily thanks to a summer season where the majority of individuals are still limited in terms of options when it comes to leaving the house due to the Coronavirus pandemic. With other options like bars, restaurants, movies and sports still sidelined as a result of social distancing and lockdowns, more individuals are turning towards to video games as entertainment in record numbers — and Activision Blizzard is reaping the benefits.
"While economic uncertainty could have an impact on our near-term results, the initiatives that drove our growth for the first half of the year should also provide the foundation for long-term growth," Activision Blizzard CEO Bobby Kotick said in a statement.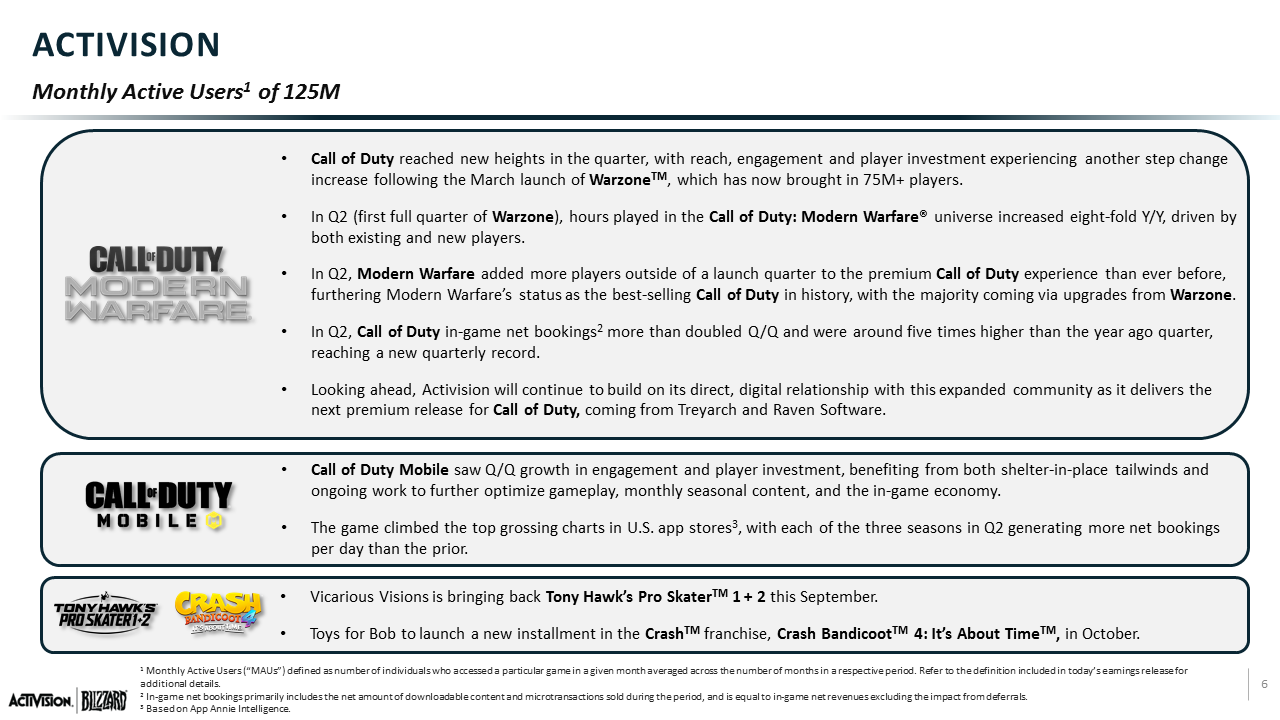 The Santa Monica, California-based video game holding company behind such notable titles as the Call of Duty series, World of Warcraft, Overwatch and Hearthstone reported a GAAP revenue of $1.93 billion versus $1.69 billion expected, which was up 38% from $1.40 billion a year prior. Earnings per share was also up, with a reported $0.75 versus $0.59 expected.
Blizzard attributed much of its success to Call of Duty: Warzone, a free-to-play battle royale within Call of Duty: Modern Warfare on the Playstation 4, Xbox One and PC. When Call of Duty: Warzone first launched at the onset of the pandemic lockdown on March 11th, it was downloaded more than 60 million times in its first 52 days. The number has already leapt to 75 million in the present.
World of Warcraft, entering its 16th year as an MMO has seen plenty of enthusiasm for its upcoming Shadowlands expansion, with "engagement in the franchise [at the highest its been] in over a decade; Overwatch has grown in engagements and smartphone game Candy Crush has continued to crush it on mobile devices. The company raised its net-revenue outlook for the year to $7.28 billion.
Activision Blizzard made no statement about the disputes over wage inequities within the company, after an internal Blizzard survey in 2019 found that more than 50% of Blizzard employees were unhappy with their pay and the seemingly vast disparity between lower level employees and higher ranking ones.
NEWS: Blizzard staff put together an anonymous spreadsheet Friday to compare salaries and pay raises as part of an open revolt against low compensation. While CEO Bobby Kotick makes $40m/year, some Blizzard employees say they can't even make ends meet. https://t.co/p2uhnwWfFn pic.twitter.com/tpnJd3Krun

— Jason Schreier (@jasonschreier) August 4, 2020
What do you think of the Activision Blizzard Q2 earnings report? Did they do better than you expected? Sound off in th comments.