Leaked box art for the highly-anticipated and oft-delayed Cyberpunk 2077 (whose most recent delay was hopefully its last) made its way onto social media over the weekend and with it came a few interesting revelations — the game will be released on two Blu-Ray discs and sport a minimum file size of 70 GB on the PS4. Seemingly, the two discs will serve a purpose similar to the two disc setup utilized for Red Dead Redemption 2, where one related to the installation of the game and the other actually launched it. Blu-Ray discs fit approximately 50GB of data so the two disc setup makes sense.
The leaks were first made available by a Reddit user whose company was sent Cyberpunk 2077 promotional material.
Company I work for has just been sent all this promo stuff! Its deffo out on the 10th from cyberpunkgame
The user later shared the front box art, which revealed what would be inside the box, including: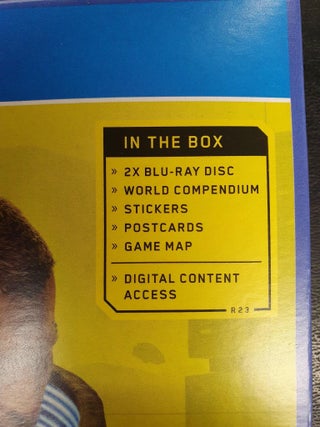 2x Blu-Ray discs
World Compendium
Stickers
Postcard
Game Map
Digital Content Access
And the back cover, which makes note of the 18+ age rating and the 70 GB file size minimum.
Developer CD Projekt Red cited the optimization of Cyberpunk 2077 for the PS4 and Xbox One (as opposed to the Xbox Series X|S, PS5 and PC versions already being finished) as one of the main hindrances in the game's timely release, so physical evidence of the PS4 packaging lends itself as an auspicious sign that the game should (finally) be on schedule for its December 10th release date.
Although the polishing of last generation's versions of Cyberpunk 2077 were deciding factors in pushing back the game's release date, the game will look better on the Xbox Series X|S and Playstation 5 consoles.
"It will look better on the next-generation consoles from day one," a CD Projekt Red representative said. "I can confirm this is not the final update, at some point we're going to have a more robust update for the next-gens, which we're planning to give free of charge to anybody who purchases PS4 or Xbox One versions. But in any case, you will be able to play the game on the next-gens from [December 10th], when the game releases, and it will look better than the current gens from that moment as well." Optimized versions of Cyberpunk 2077 will come at a later date. Let's just play the game as it is on December 10th before we start worrying about optimized versions, shall we? Lord knows we've waited long enough.
What do you think of the leaked Cyberpunk 2077 box art? And the decision to release the game on two discs? Let us know in the comments.