Warning: Spoilers ahead.
Marvel Ultimate Alliance 3's latest DLC expansion, Shadow of Doom, brings the Fantastic Four and of course, Dr. Doom into the mix — but there's one more secret character to unlock after adding Mr. Fantastic, Invisible Woman, Human Torch, The Thing and Doom to your roster.
Although he isn't what one might consider "perfectly balanced," in terms of his near gamebreaking skill kit — this Mad Titan should be a welcome addition to any player's team composition. Behold Infinity Thanos: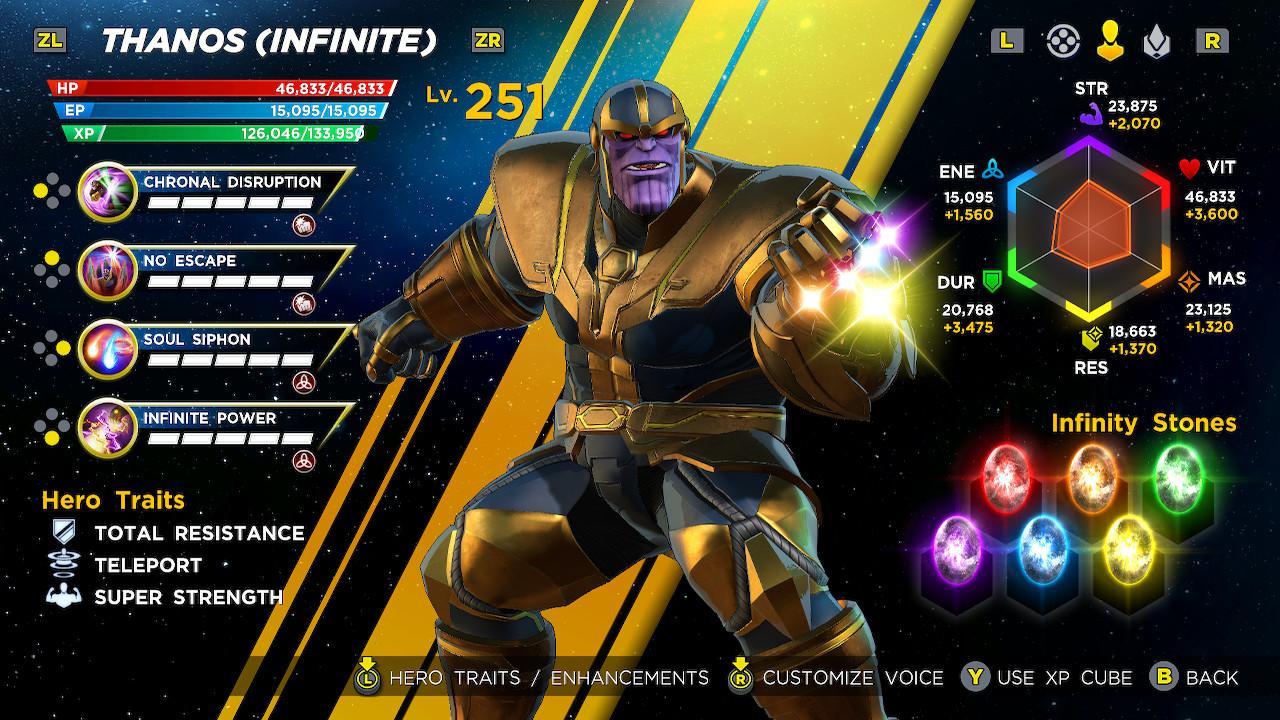 Those of you who were holding out hope that Silver Surfer might be the final unlockable character in the game may be disappointed (and also disappointed that there are now two playable Thanos characters in Marvel Ultimate Alliance 3), but Thanos (Infinite) is a more than capable replacement, considering he's Thanos with the freaking Infinity Gauntlet equipped.
This version of the purple-skinned warlord can't be equipped with any ISO-8 gems to boost his stats but that doesn't matter; instead, Thanos (Infinite) has all six Infinity Stones in place of ISO-8 crystals, which (obviously) greatly enhance his in-game abilities. Some of his Special Abilities, such as Infinite Power, a charged purple beam attack and No Escape, where Thanos causes the ground around opponents to erupt in red spikes will seem familiar as they're lifted straight from the in-game boss fight Thanos which players face in story mode. Thanos' Extreme Attack is befittingly impressive as well: he floats up into the air emanating energy all around his body while summoning four meteors to come crashing down on his enemies.
The Stones also gift Thanos (Infinite) with a Total Resistance trait and Teleport trait in addition to his inherent Super Strength. He may not have any synergies with other heroes but his base stats at Level 300 are by far the highest in the game and his borderline overpowered move kit make him a one-man wrecking ball.
To unlock Infinity Thanos players must complete the Shadow of Doom epilogue on Ultimate Difficulty. Hopefully this… does put a smile on your face.
---
What do you think of Thanos (Infinite) as the final unlockable player in Marvel Ultimate Alliance 3? Would you rather have seen another character? Let us know in the comments.