Stardew Valley Expanded, a free expansion for ConcernedApe's open-ended country life RPG Stardew Valley is now available. The mod features 23 new locations, 126 new character events, 9 new NPCs, a new village, 750 location messages, reimagined maps and festivals (all maps), a vast remastered farm map, a new world map reflecting all changes, and many more miscellaneous additions.
ConcernedApe, the game's creator recommends that players play through the vanilla version of the game before moving on to Expanded. "For players who have already played Stardew Valley, think back to when you first walked into the Secret Woods, experienced Shane's six heart event, or met Caroline for the first time," ConcernedApe explains on mod description page. "I want to give you that experience again. Starting a new save file is required!"
Here's a full list of what's been added in Stardew Valley Expanded. For spoilers, visit the official NexusMods page linked above.
Stardew Valley Expanded additions
Designed new cover art: 'The Little Wizard' (1920×1080) and 'Flash's Wallpaper Suite' (3440×1440).
Added two new characters: Morgan and ???.
Added a new festival: 'Community Day'. Villagers now commune at the community center on the 22nd of every season after completion – comes with an overhauled interior.
Added two new maps: Iridium Quarry and ???'s Room.
Added a new questline to Aurora Vineyard, which involves a new item, after players complete the community center and have played for at least 138 in- game days (late spring of year 2).
Added 18 new events.
Added a new original soundtrack to the Crimson Badlands titled 'Crimson Sands'.
Added Claire, Camilla, Isaac, Alesia, and Scarlett as 'antisocial NPCs'. These characters have limited schedules and dialogue. They can't be gifted and don't appear on the social menu.
Added portraits to several location messages, such as when the player pets Dusty.
Added new portraits for Sandy.
Added a couple end game weapons, purchased from adventurer vendors.
Added more immersive detail to many maps. Crimson Badlands and the refurbished Community Center interior have received huge overhauls.
Added new animations and schedules for several characters. Sophia and the Wizard have received many new elaborate schedules.
Added tile specific dialogue for Sophia, Haley, Emily, Susan, and Victor.
Added several map patches after players meet certain conditions.
Added several letters.
Added several new items.
Added a new monster to the Crimson Badlands.
Added several SVE NPCs to the community center completion event.
Added a couple blush expressions for Olivia and changed her default blush expression.
Added 10 heart dialogue for Victor and Olivia.
Added SVE characters to the 'main' festival events.
Added new forage areas and types to several maps.
Added a new explorable area for Immersive Farm 2 Remastered (IF2R).
Added 14 configurations for IF2R, giving players the ability to customize their farming experience. Players may now toggle fences (several areas), crop field appearances (grass or dirt), pet house, flowerbeds, outside table, and shed.
Changed the alternative layout IF2R name "NoStaticFencesAndDirtLayout" to "FarmSandboxLayout".
Changed all references in events using the wizard's last name "Rasmodius" to his first name "Magnus".
Wizard's name is now changed to 'Magnus' when the player has reached 4 hearts with him.
Changed the description of the ??? weapon, letting players know what to use in conjunction with it.
Changed the earthquake message on summer year 1 day 3 to an explosion.
Olivia now shows more affection to the player in her 10 heart event.
Adjusted Olivia's and Victor's marriage dialogue and use of their blush expressions.
Adjusted the artifact spawn rates at Blue Moon Vineyard.
Adjusted the prices of several items in several shops.
Adjusted many portraits.
Optimized the Crimson Badlands monster spawns.
Removed iridium sprinklers from Sophia's ledger.
Removed Victor's static dialogue in the graveyard, allowing players to converse with him.
Removed the fake trashcans outside of Pelican Town.
Removed many 'end positions' in SVE events due to feedback. They've been replaced with new end dialogue for involved characters.
Reduced the size of the desert railway map.
Altered the desert pillars to match canon.
For Sophia, several food items are now 'likes' and sweet pee flowers (summer forage) are now 'neutral'.
Fixed a bug where players couldn't purchase the ??? from Morris in their Joja route.
Fixed an issue where static plants in the IF2R greenhouse would clip into fruit trees.
Fixed an issue where the void shard, blue moon wine, and Camilla's elixirs had to be shipped to obtain the shipping acheivement.
Fixed an issue where the player clipped into Penny during the main Luau event.
Fixed a bug where players couldn't dance with SVE characters.
Fixed a bug where SVE spouses had glitched movie theater dialogue.
Fixed a bug where players couldn't eat Gus' burgers at the Stardew Valley Fair.
Fixed a void eel ID fish pond SMAPI message.
Fixed several schedule clipping glitches.
Fixed many map glitches.
Fixed many typos.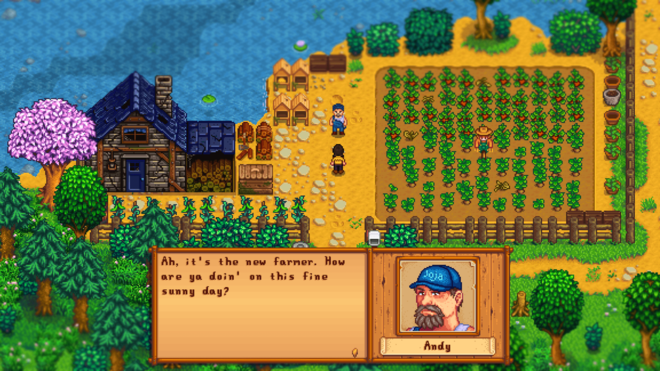 Are you ready to put even more hours into Stardew Valley with the brand-new Stardew Valley Expanded 1.10?
Stardew Valley Expanded is available for Microsoft Windows, macOS, Linux, PlayStation 4, Xbox One, Nintendo Switch, PlayStation Vita, iOS and Android platforms.