We're huge fans of the eighth installment of the Tomb Raider series, Tomb Raider: Underworld and cosplayer Enji Night, with her matching brunette hair and athletic figure makes it look like Lara Croft stepped directly out of the game and then some.
Enji Night also pulls off Lara in the classic Tomb Raider costume quite well to say the least.
Civilian form and Lara mode.
Enji Night/Lara visits Chichen Itza, Mexico.
Trigger discipline?
How about some action shots?
Superheroic poses.
Enji-Night showing off a decidedly old school Lara Croft look, polygons and all.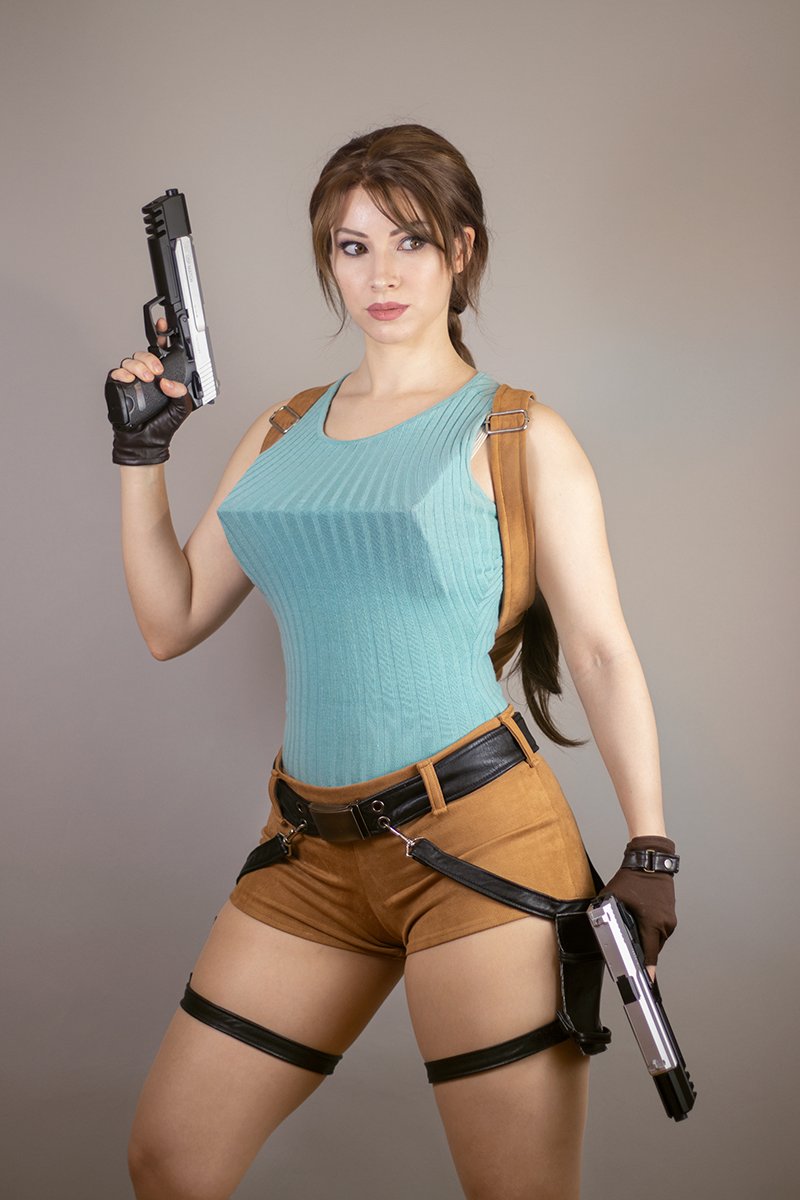 For more of Enji-Night's cosplay head over to her Facebook. And you owe it to yourself to check out Enji's Harley Quinn cosplay from Batman: The Animated Series as well.
Tomb Raider: Underworld was released in 2008 and received critical acclaim. Per Wikipedia:
The PlayStation 3, Xbox 360, and PC versions of Underworld received mostly positive reviews. Critics generally praised the environments, Lara's motion captured movements, story, puzzles, exploration, graphics and the less linear style of gameplay, although some criticism was directed at its "haywire" camera angles and "dodgy" combat system.
Per the official Tomb Raider: Underworld press release:
Starring videogame icon Lara Croft, Tomb Raider: Underworld is an epic adventure that delivers advanced exploration-based gameplay that gives players a new level of challenge and choice as they solve mysteries from exotic locations around the world.

"Tomb Raider: Underworld brings to life a realistic world that fully compliments Lara Croft's bold personality," said Sean Vesce, General Manager of Crystal Dynamics. "We continue to innovate on the brand that defined the action-adventure genre and we are excited to introduce fans and gamers to an immersive, believable world that they can explore and conquer."

Tomb Raider: Underworld seamlessly blends exploration, grand scale puzzle solving and combat, taking players on an archeological journey to the ancient nether worlds of the Mediterranean, Thailand, Mexico, the Arctic Sea and more. As fearless adventurer Lara Croft, gamers uncover proof of the existence of the Norse underworld and the mythical Hammer of Thor, and embark on a perilous journey towards a forgotten power that, if unleashed, could lay waste to all of civilization. Lara's latest adventure introduces scores of new capabilities and state-of-the-art gear, including an active sonar map, multi-purpose grapple and an all-terrain motorbike. With fresh moves that are more intuitive and realistic than ever before, players must master these in order to navigate through treacherous environments and defeat a range of hostile enemies.