Warning: Spoilers for Astro's Playroom GPU Jungle level ahead.
Astro's Playroom is a 3D platformer game from developer ASOBI Team which comes pre-loaded with every Playstation 5. The game was designed with the primary intent of showing off the haptic feedback capabilities of the PS5's DualSense controller, which provides realistic, tactile vibrations as players maneuver the eponymous Astro Bot over various terrains and through differing weather conditions like blustering wind and heavy rainfall. Although Astro's Playroom makes excellent use of the DualSense controller, the game far exceeds its identity as a mere tech demo — it's adorable, charming and a whole lot of fun as well.
Another huge element of what makes Astro's Playroom so enjoyable is its level design, all four of which are based on the interior of a Playstation 5 console, and the accompanying music. One such world, GPU Jungle (which explores the PS5's Graphics Processing Unit) features a self-titled song that could be accurately described as a blissful, electronic bop. It's also catchy as hell and if you're like me, listening to a song on repeat is made even better by knowing the lyrics. To discover the full lyrics, look for a breakable wall behind which you'll find them, in all their glory, emblazed on a tablet.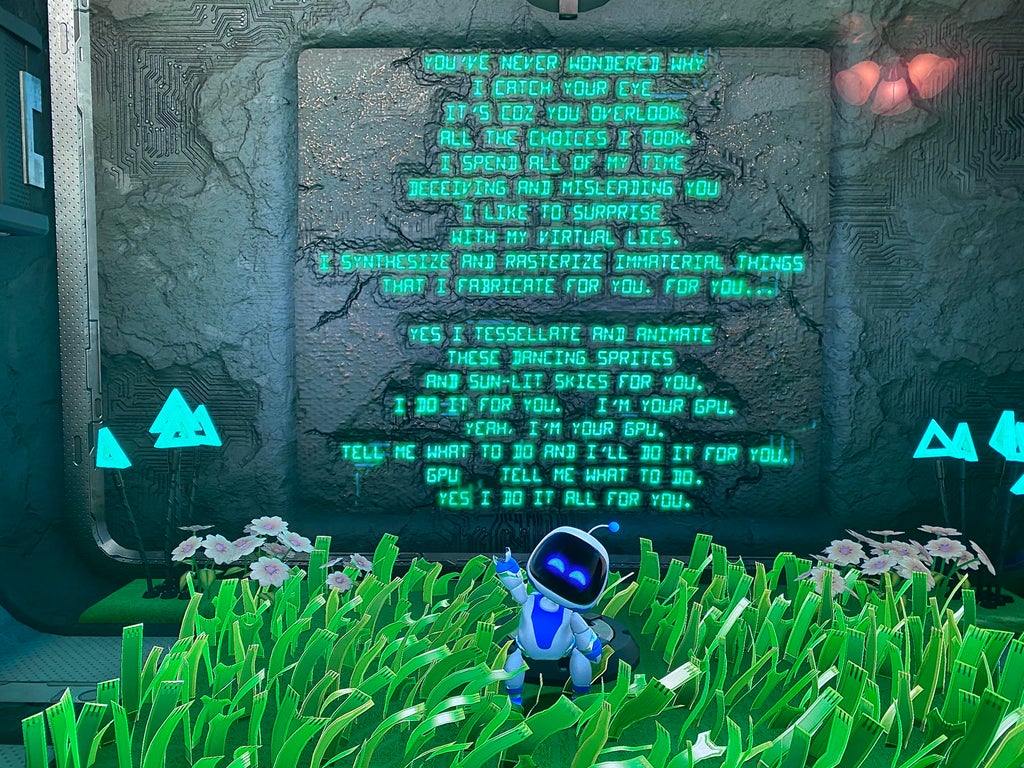 The Astro's Playroom GPU Jungle lyrics are as follows:
Look at the light.
It falls just right.
My shadows they please,
Beneath the trees.
But none of these things happen for free.
Yeah, all that you see, rendered by me.
I synthesise and rasterise immaterial things that I fabricate for you.
For you.
Yeah, I tesselate and animate these dancing sprites and sunlit skies for you.
I do it for you.
I'm your GPU.
GPU.
Tell me what to do, and I'll do it for you.
You've never wondered why,
I catch your eye?
It's 'cos you overlook,
All the choices I took.
I spend all of my time,
Deceiving and misleading you.
I like to surprise, with my virtual lies.
Hey, if you're gonna have the Astro's Playroom GPU Jungle lyrics stuck in your head, you might as well know the actual words and not just sit there cluelessly mumbling some mondegreen version of the tune.
What do you think of the Astro's Playroom GPU Jungle lyrics? What about the actual song itself — does it slap hard or nah? Let us know in the comments.