The Phantom Thieves of Hearts have pulled off what might be their greatest caper yet as an official ranking from the Metacritic website reveals that Persona 5 Royal seized the highest Metacritic score of 2020. The enhanced re-release of Persona 5 for the Playstation 4 (also playable via backwards compatibility on the Playstation 5) features the exploits of the aforementioned Phantom Thieves of Hearts, a clandestine group of vigilantes who utilize physical manifestations of their psyches called Personas to battle their enemies, the Shadows.
In particular, Persona 5's gameplay revolves around a Tokyo high school student, codenamed Joker, whose daily actions in his school exhibit social simulation game aspects, such as school events, performing part time-jobs and forming relationships. Alongside school life gameplay are two different modes of dungeon crawling within an alternate universe called the Metaverse, where the player's party navigates through randomly generated dungeons called Mementos. Within these Mementos are the Shadows, the enemies of the Phantom Thieves of Hearts, who are basically the diametrically opposed versions of the Phantom Thieves' Persona powers; whereas the the Personas are physical manifestations of players' psyches, the Shadows are physical manifestations of suppressed psyches who resemble various mythological and religious figures (for instance, Cerberus from Greek mythology or Baphomet, a powerful demon lord).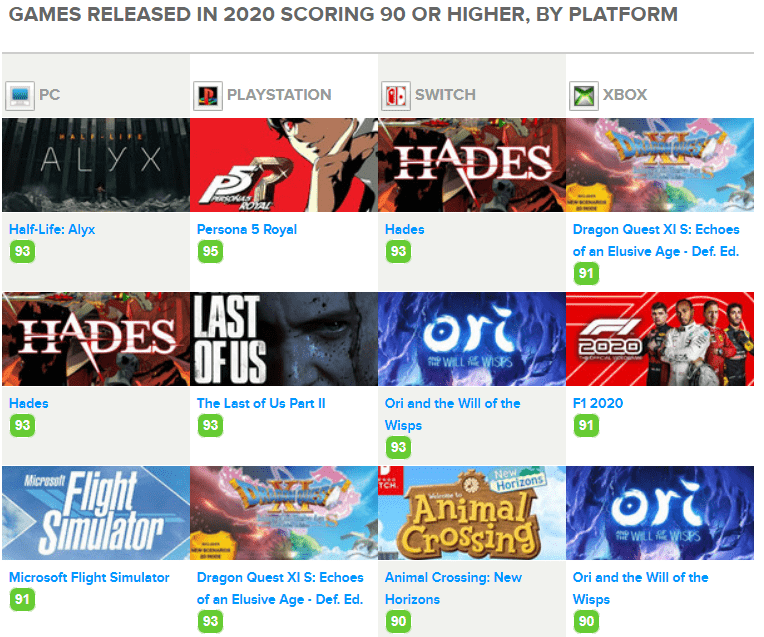 Persona 5 Royal added a handful of new characters with whom Joker and his party can interact and form relationships, such as a gymnast named Kasumi and a school counselor named Maruki. P5R also picks up where the regular P5 narrative ended, adding another semester of school content; new activities such as playing darts to improve your combat Baton Pass ability with certain allies; more intricate Palaces, which are P5R's version of dungeons; powerful new combination moves shared between playable characters called Showtimes and a new character hangout called The Thieves Den, where players can chill, display in-game achievements, put up personal decorations and even play card minigames with other party members.
Persona 5 Royal seized the highest Metacritic score of 2020 with a 95 rating, beating out other highly-regarded titles from 2020 like Hades, which was the best-reviewed Steam game of 2020, The Last of Us Part 2, Ori and the Will of the Wisps, Half-Life: Alyx and Microsoft Flight Simulator.
What do you think of the fact that Persona 5 Royal seized the highest Metacritic score of 2020? Was another game more deserving of the designation? Let us know in the comments.
Source: Metacritic