Warning: Spoilers for Panam Palmer storyline in Cyberpunk 2077.
CDPR recently rolled out Cyberpunk 2077 Patch 1.2, one of the game's biggest and most extensive updates yet.
Among the most notable changes implemented in Cyberpunk 2077 Patch 1.2 were changes to in-game systems in dire need of amelioration, namely the disorganized law enforcement AI and incomplete driving sensitivity, as well as one more welcome addition that thankfully didn't revolve around bugs and glitches: brand-new Panam Palmer romance dialogue.
The new dialogue for one of Cyberpunk 2077's most striking (and beloved by fans) female characters was discovered through a datamine by Redditor stndn, who unearthed a Panam Palmer romance text to V where she says, "You'll always have me," Panam expressing some jealousy about V's affiliation with Judy, a new conversation where Panam and V talk about Jackie and even a description which describes Panam sending V a "hot photo."
According to a comment in stndn's Reddit topic, lines mentioning Panam Palmer and Panam-related content in the Patch 1.2 datafiles nearly doubled when compared to the pre-patch versions of the very same files, leading some to speculate that the new Panam Palmer romance dialogue is post-endgame content for new expansion content and not simply add-on material.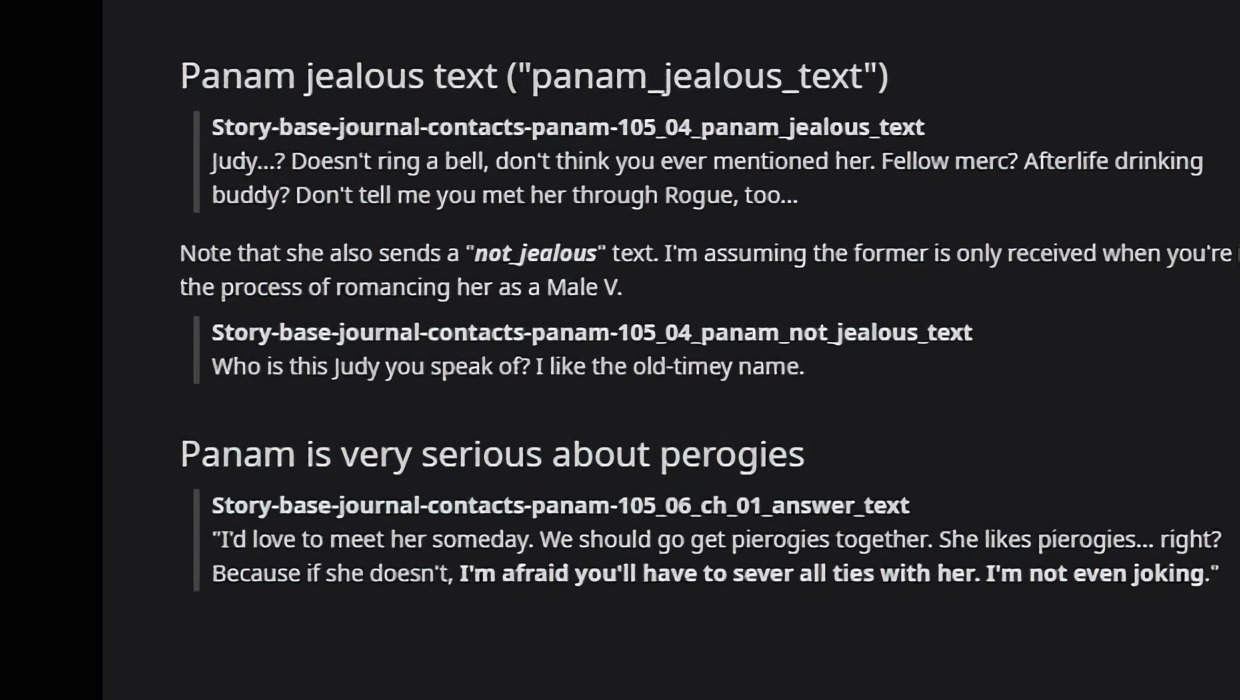 What do you think of the new Panam Palmer romance dialogue revealed in the datamined content from Cyberpunk 2077 Patch 1.2? Do you think that CDPR will be adding these new conversations to some form of post-endgame content to Cyberpunk 2077 such as an expansion or are the new conversations simply add-ons to the already existing in-game relationship files with Panam? Tell us what you think in the comments.