The Simpsons: Hit & Run turned twenty-years-old this year and despite a cult following and fans clamoring for another game in the series (or at the very least, a remaster or remake) — for whatever reasons, it just hasn't happened. So the question remains: why hasn't there been a Simpsons: Hit & Run sequel made?
The game's producer Steve Bocksa, executive producer John Melchior, designer Darren Evenson, designer-writer Chris Mitchell and programmers Cary Brisebois and Greg Mayer recently sat down to talk on the MinnMaxx YouTube channel to discuss why a sequel to The Simpsons: Hit & Run hasn't yet seen the light of the day.
Surprisingly, there was a sequel in development by Radical Entertainment, but the only answer given when asked why production was brought to a halt was a baffled "I don't know," from Melchior.
"It was a five game deal for less money than I think [publisher] Vivendi paid for the first game," Melchior continued, explaining that his boss was similarly bamboozled by the decision to not go ahead with a Simpsons: Hit & Run sequel. "He was just like, 'I don't understand. I gave it to you on a silver platter, why aren't you just saying yes and doing these games?' It was just a really bizarre decision. I'll never understand it. Most people on the production level never understood it."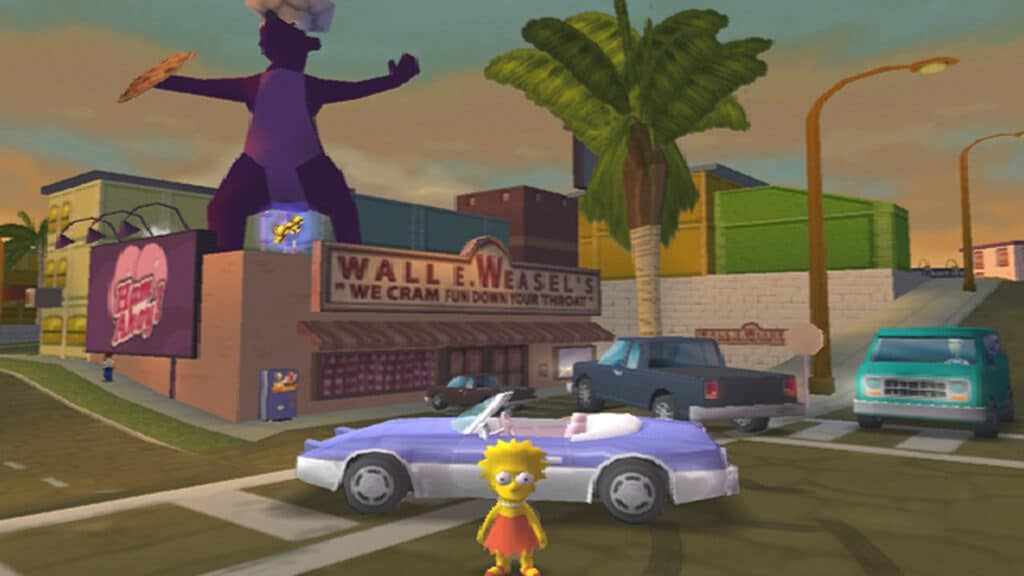 Back then it seemed inconceivable that another installment of the game wouldn't be made.
"It was a no-brainer; it was like, well of course we're going to be doing this," Evenson explained. "The stars are aligned, we're treading down this path. And then it was just like a, 'Huh, I guess we're not.'"
One of the most enjoyed aspects of The Simpsons: Hit & Run was its comical take on GTA 3 driving-oriented gameplay and the sequel looked to expand on those driving-oriented elements by adding the ability to tow objects from vehicles. Mayer explained that he even had a prototype for the new towing feature prior to the game's production being shelved.
"There was going to be time travel," Mitchell reveals. "We had airships, we had planes, we had lots to go on [with] The Simpsons," Melchior added.
Electronic Arts ended up signing a contract for the video game rights to The Simpsons in 2005, two years after The Simpsons: Hit & Run was released, but there hasn't been another Simpsons game released by the publisher since 2007.
That notion makes executive producer Melchior even more disappointed.
"This was going to be a franchise, no doubt in everybody's mind. It was sad because I think there was no momentum loss between the shipping of this game and the work being done on the sequel," Melchior said.
There are still currently no plans for a The Simpsons: Hit & Run sequel to be made, especially now that EA still holds the rights to the game. However, maybe, just maybe there's still hope for a remaster.
Would you like to see a The Simpsons: Hit & Run sequel made? What about a remaster? Let us know in the comments.