Looks like Team 5 was prepared… to make some changes.
And with the quickness at that. In fact, the recently announced balance changes to Demon Hunter cards Skull of Gul'dan, Imprisoned Antaen, Eye Beam and Alrachi Warblades marks the fastest a class has been nerfed after an expansion's release in the game's history. By comparison, it took nine days to nerf Galakrond Shaman, which was considered a broken and/or highly overpowered deck at the time of Descent of Dragons, Heartstone's thirteenth expansion's release.
The changes were announced on Senior Game Designer August Dean Ayala's Twitter:
We're planning on making some balance changes that should go out today. Cards we're looking at are Skull of Gul'dan, Imprisoned Antaen, Eye Beam, and Aldrachi Warblades. We'll send out the final info from our official channels when it's ready. pic.twitter.com/2tU5j6lJyY

— August Dean Ayala (@IksarHS) April 8, 2020
Update: The changes are now live. The cards listed below can be disenchanted for full crafting cost.
A more recent update posted on Reddit went into more detail on exactly what changes would be made to the aforementioned cards:
Hey everyone,

Over the next couple of weeks, we'll be keeping an eye on the power level of Demon Hunter. Our goal is to make changes when necessary in order to get Demon Hunter to where we believe it should be. Today, we'll be applying the following balance updates to a few Demon Hunter cards in a server-side patch (meaning you won't have to download anything):

Skull of Gul'dan – Mana cost increased from 5 to 6.
Imprisoned Antaen – Mana cost increased from 5 to 6.
Eye Beam – Outcast Mana cost increased from 0 to 1.
Aldrachi Warblades – Durability decreased from 3 to 2.

We wanted to get these changes out the door today, and in doing so you will only see the new stats for these cards—displayed in both red and green—in matches, not in your Collection. The red and green numbers will return to white and the cards will be updated in your Collection with a data-only patch that we're expecting to deploy before the end of the day tomorrow.
Changes will also be made to Hearthstone's Arena mode, particularly involving cards offered from the Demon Hunter class until the class and its cards can be more properly assessed.
For Arena, we're making changes today that will see Demon Hunter class card offering rates decreased until we're able to properly address the class with more accurate micro-adjustments in a future patch. The following cards have had their offering rates reduced in Arena:

Chaos Nova
Coilfang Warlord
Command the Illidari
Flamereaper
Furious Felfin
Glaivebound Adept
Illidari Felblade
Immolation Aura
Metamorphosis
Netherwalker
Nethrandamus
Priestess of Fury
Skull of Gul'dan
Twin Slice
Umberwing


4/8 Update: A full Arcane Dust refund will be issued for both regular (100 Dust) and golden (800 Dust) copies of Skull of Gul'dan and Imprisoned Antaen, as well as golden Eye Beam (1600 Dust).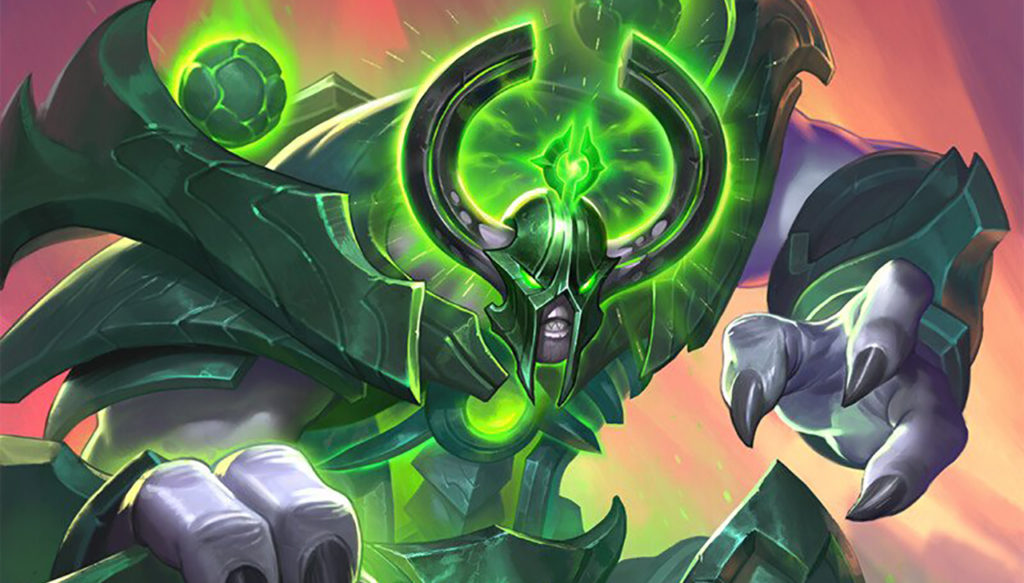 Skull of Gul'dan was a 5-cost Rare Demon Hunter spell card whose effect is: Draw 3 cards. Outcast: Reduce their Cost by (3).
Imprisoned Antaen was a 5-cost Rare Demon Hunter minion with 10 Attack and 6 HP. Its effect is: Dormant for 2 turns. When this awakens, deal 10 damage randomly split among all enemies.
Eye Beam was a 3-cost Epic Demon Hunter spell whose effect was: Lifesteal. Deal 3 damage to a minion. Outcast: This costs (0).
Aldrachi Warblades was 3-cost Demon Hunter weapon card with 2 Attack, 3 Durability and the Lifesteal effect.
The changes made to these cards will also effect the ones found in the Demon Hunter prologue (which must be completed to unlock the class), so we'll be sure to update our Demon Hunter prologue walkthrough if they have a noticeable effect on the prologue's difficulty.
---
Do you think the changes to these Hearthstone Demon Hunter cards were warranted? Was Demon Hunter more broken than Galakrond Shaman? Let us know in the comments.