"If it bleeds we can kill it."
And Predator: Hunting Grounds will have plenty of blood (and gore) if the "M for Mature" rating designated to it by the Entertainment Software Rating Board is any indication. In addition, the ESRB cautions that the upcoming multiplayer first/third-person shooter will feature drug reference, intense violence, partial nudity and strong language. And of course, "skinned corpses with exposed buttocks."
Developer Illfonic (Friday the 13th: The Game) looks poised to recreate the tense, sweltering, cat-and-mouse ambiance of the first Predator film, which revolved around a special forces team led by Dutch Schaefer (Arnold Schwarzenegger) being hunted down one-by-one by an alien trophy hunter, the titular Predator during a rescue mission in the jungles of Guatemala.
Players will be able to play the part of either the Fireteam, who must complete paramilitary missions before the computer-controlled Predator hunts you down or to play as the Predator himself, utilizing a vast array of alien weaponry to hunt worthy human prey and add to their trophy collection.
"Combat is highlighted by frequent gunfire, screams of pain, and blood-splatter effects. Some explosive weapons cause bodies to burst into chunks of flesh/limbs," the ESRB description states. "The Predator can use blades and laser weapons to decapitate enemies. As the Predator, players can also perform execution-style finishing moves on soldiers; the victims' skulls and spines get ripped from their bodies. Some scenes depict skinned corpses with exposed buttocks. One mission prompts players to locate packages of drugs in a compound and to eventually burn them. The words "f**k" and "sh*t" appear in the dialogue."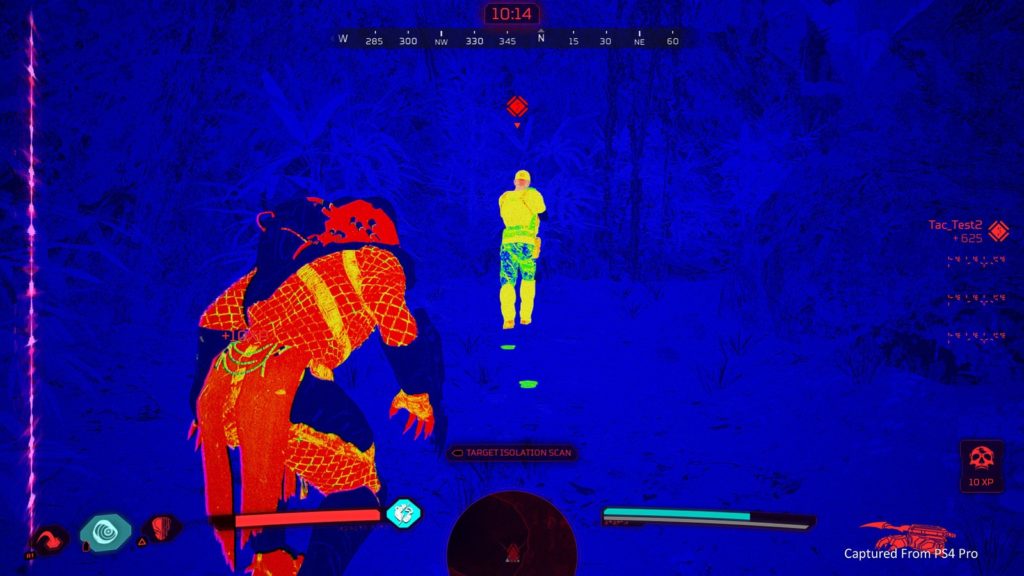 As big fans of the first Predator film, we personally can't wait for this game. Being able to take on the role of a Predator and equipping ourselves with light-bending camouflage, a shoulder mounted plasma caster, wrist blades, a combi-stick, a Yautja bow and arrow and of course, the patented Predator razor disc looks like a blast.
Developer Illfonic looks poised to make Predator: Hunting Ground the closest experience to the Academy Award-nominated first film we've ever seen.
According to the official Playstation blog Predator: HG post, you can even cover yourself in mud like Dutch did in the film when you play as a member of the Fireteam. Hot damn.
We're guessing the exposed buttocks on the skinned corpse is the partial nudity that the ESRB is talking about, by the way? Or are we going to get some sort of weird Predator teabagging on our foreheads after we get hunted down and killed? Also, it's still unclear at this time whether or not we'll be able to become a "goddamn sexual Tyrannosaur" like Blaine (Jesse Ventura) from the movie.
Predator: Hunting Grounds releases worldwide on April 24 on PS4 and PC.