"I've been havin' dreams
Jumpin' on a trampoline
Flippin' in the air
I never land, just float there"
What a time to be alive. 2K Sports dropped their first full trailer for this year's installment of their 2K professional basketball video game franchise, NBA 2K21 and we're finally living in the future as the graphics are indicative of next-generation caliber and overall probably the most impressive visuals we've seen out of anything displayed for the Playstation 5 and Xbox Series X consoles to date. (The NBA 2K21 trailer seen in this article is captured from NBA 2K21 footage on the Playstation 5.)
The NBA 2K21 trailer features ballers like the Portland Trail Blazer's Damian Lillard, the Dallas Mavericks' Tim Hardaway and the Golden State Warriors' Klay Thompson and Stephen Curry dunking and raining threes with SHAED's "Trampoline," (whose lyrics can be seen above in the intro to this article) playing in the background. The trailer also follows Dallas Mavericks' point guard Luka Dončić in a pair of pre-game warmups, head bowed in reflection before he emerges from the walk-in tunnel and daps up some elated fans (and even Dallas Mavericks' blue-furred, white maned anthropomorphic horse mascot, Champ) and takes to the court.
NBA 2K21 developer Visual Concepts is clearly taking well to the more powerful hardware offered by the Playstation 5 and Xbox Series X; the photorealism in players like Steph Curry and New Orleans Pelicans' power forward Zion Williamson are not only spot-on and awe-inspiring, but mannerisms such as Steph chewing on his mouthpiece as he heads to the bench, Klay Thompson's follow-through on three-pointers and Tim Hardaway celebrating after an "AND1" bring them to life in an unprecedented manner. Although there is a slight drop-off in framerate during cutscenes and certain close-ups on faces (like Warriors' coach Steve Kerr) look a little wonkier than others, the work on NBA 2K21 is still in progress, so those minor grievances could be ameliorated once the final version is released next month. With all due respect to EA Sports' old school slogan, we truly feel like we're "in the game" more than ever before in our first impressions with NBA 2K21.
2K Sports even provided a number of stills from the game, including this direct comparison of Zion Williamson as he appears in the PS4 version of Zion Williamson from NBA 2K20 and how he appears in NBA 2K21: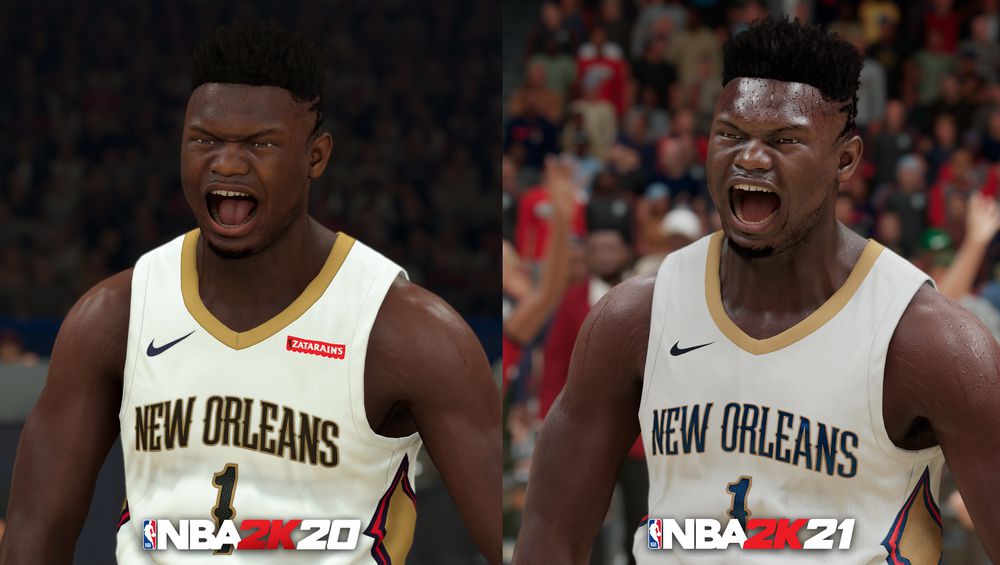 Talk about a big leap forward.
NBA 2K21 will release on launch day for the Xbox Series X and S consoles (November 10th) and Playstation 5 (November 12th).
What do you think of the visual leap in the NBA 2K21 trailer? Shoot your shot in the comments section below.