If you're a parent who happened upon this article, chances are pretty good you too grew up with Pokemon — which means you know how fun and entrancing the fandom for the game can be. Now it's the year 2020, nearly 25 years since the first two Pokemon games were released on the Gameboy back in 1996 and the Pokemon franchise, the highest-grossing entertainment franchise of all time, is going stronger than ever.
That being said, there are far more choices when it comes to Pokemon merchandise, and being the astute, judicious guardian that you are — you want only the finest Pokemon paraphernalia for your little tyke. Which is where we come in. Use our guide to ensure you pick up only the best Pokemon gifts for kids — the ones that they're (and you too are) sure to love this Christmas.
TOMY Pokémon My Friend Pikachu
No budding Pokemon enthusiast's collection would be complete without their very own, 10-inch tall, soft and cuddly, ear-wiggling, rosy-red-cheeked, talking Pikachu. TOMY is a name known for its quality Pokemon products and the best Pokemon gifts for kids and this one is in the top echelon.
Even though this one is recommended for ages 3+, Pikachu is one of the most beloved and adorable Pokemon of all time, so don't be dissuaded from buying this for a child as old as eight, especially if they enjoy playing Pokemon Go or the Pokemon games for the Gameboy and Nintendo Switch. The only downside we see? You might want to invest in some ear plugs, because Pikachu's advertised "10 different phrases," are all variations of the infamous "PIKA PIKA" or "PIKACHUUU" from the Pokemon anime.
This Tomy My Friend Pikachu Pokemon goes perfectly with the next item on this list, by the way…
LAYSHOWCOS Pokemon trainer outfit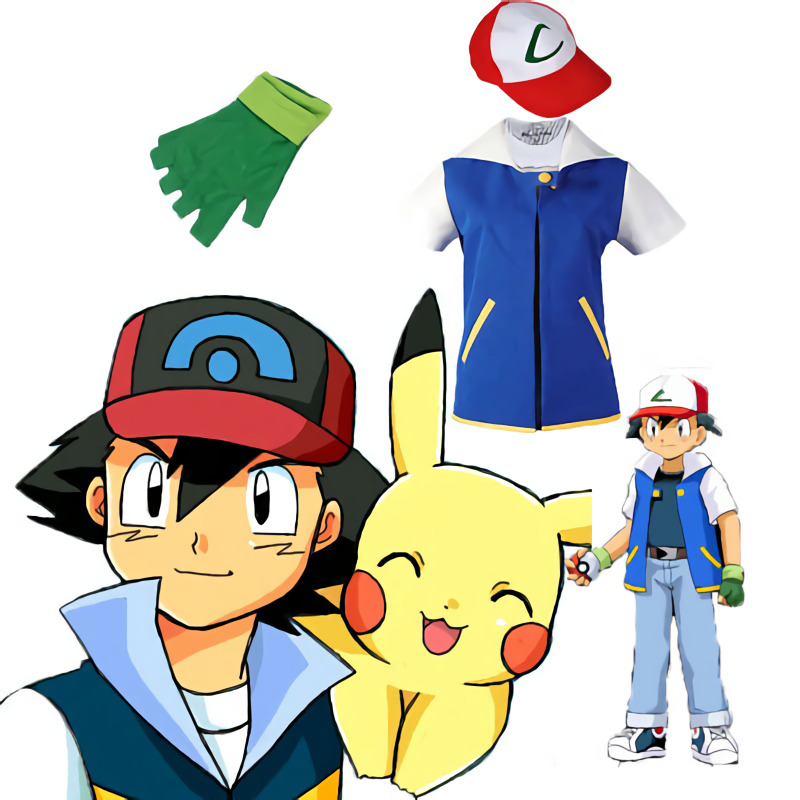 So your little Pokemon aficionado has the talking Pikachu (see the last entry) best friend that they take with them everywhere… but how will they be the very best like no one ever was without the proper attire?
Note: You may want to order these one size larger than you normally would with your kid's clothing, as the comments section on Amazon notes that the outfit can sometimes run a little small.
Pokémon Clip and Carry Poké Ball Adjustable Belt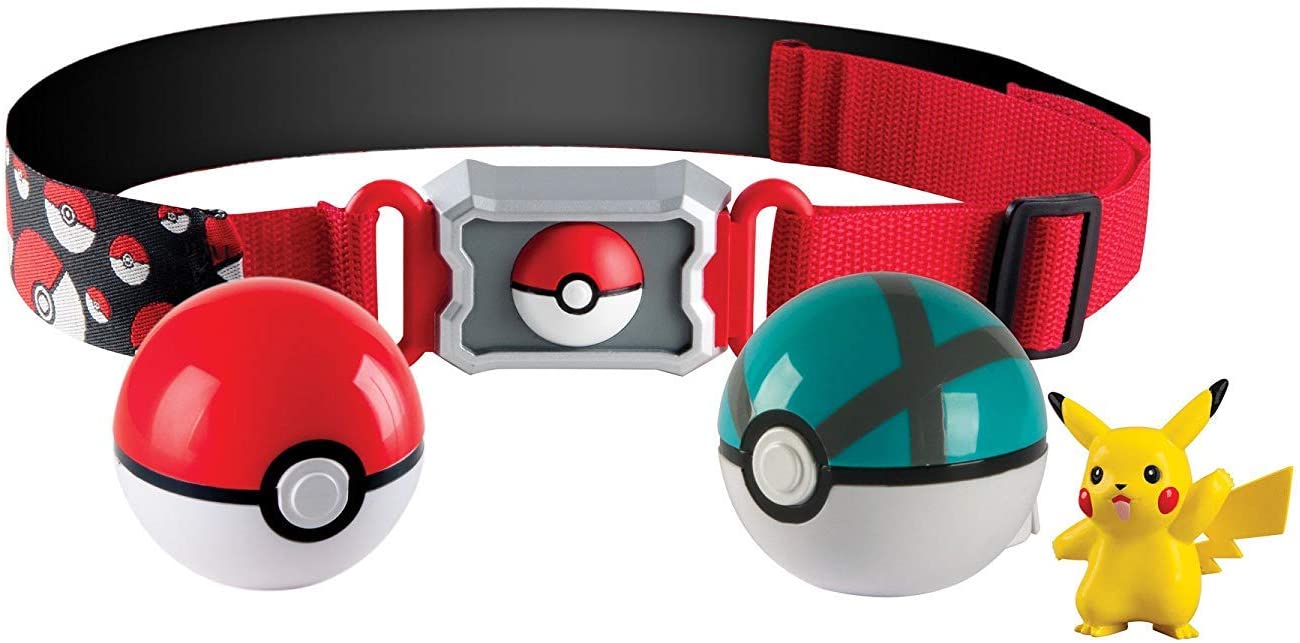 Sensing a bit of a pattern here? Your up-and-coming Pokemon trainer might look the part and have a Pikachu by their side — but how are they supposed to catch Pokemon without any Poke Balls? This Pokemon Clip and Carry Poke Ball belt is one of the best Pokemon gifts for kids because it brings them one step closer to fulfilling their fantasy of being a Pokemon master.
This adjustable 8 x 3 x 10-inch belt comes with 2 Poke Balls and a 2-inch Pokemon toy which can be placed inside said Poke Balls. But what if your kid wants to catch more than just the Pokemon that's included with the belt?
Pokemon Official Ultimate Battle Figure 10-Pack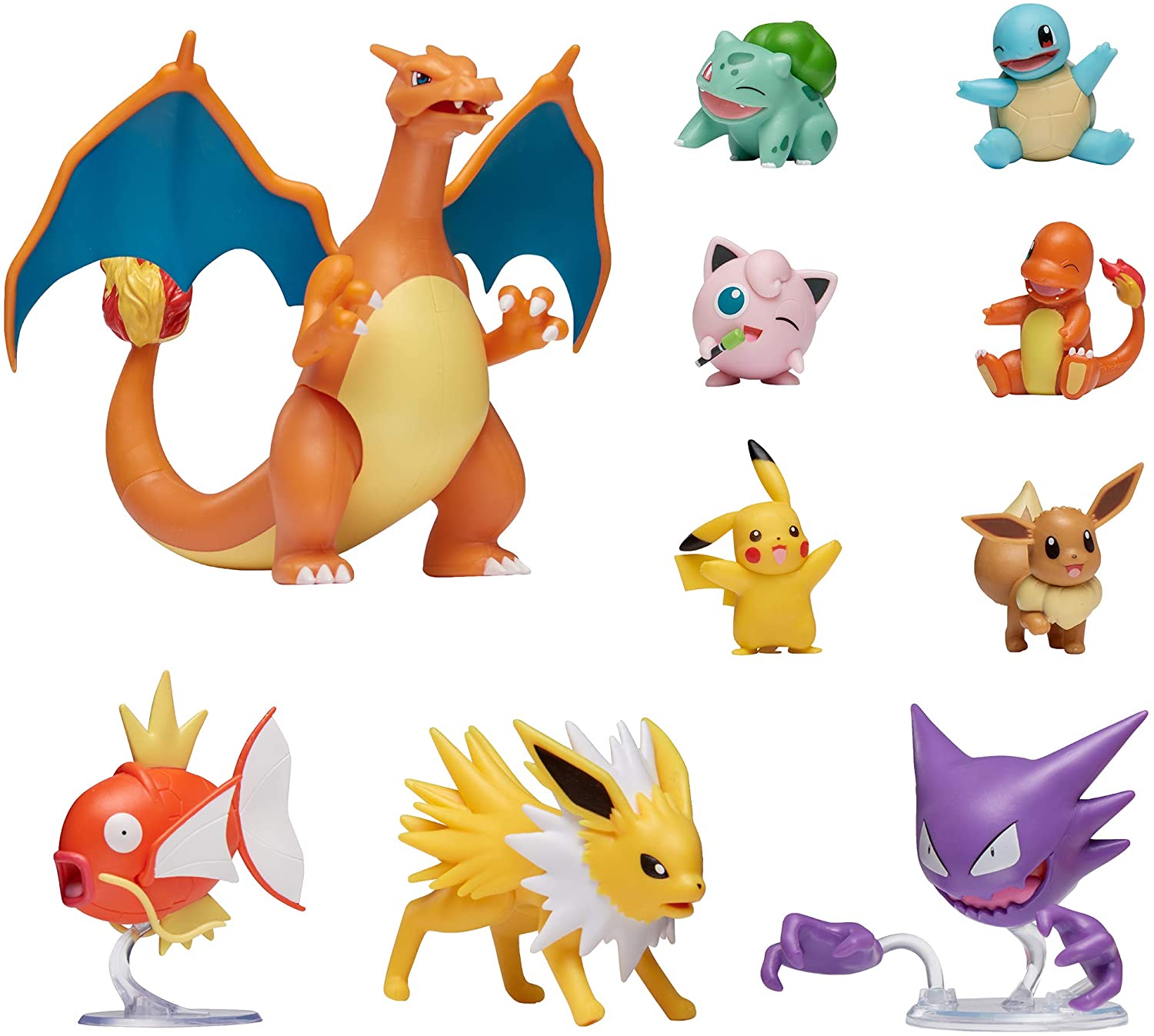 This Pokemon Official Ultimate Battle Figure Pack from Jazwares comes with 10 beloved 2" Pokemon from the first generation of Pokemon games that your child should love, including Pikachu, Charmander, Squirtle, Eevee and Charizard — some of which should fit inside the Poke Balls adorning the Pokemon Trainer Belt featured in the last entry.
Gotta catch 'em all, am I right?
For a slightly less expensive alternative, there is also a Pokemon Battle Figure Multi 8 Pack, which includes 2″ Cyndaquil, Chikorita, Totodile (the starting Pokemon from Pokemon Gold and Silver), Pikachu, Eevee, Ditto, as well as 3″ Haunter and 3″ Marowak.
Pokémon Plush Starter 3 Pack – Charmander, Squirtle & Bulbasaur 8″ Generation One Stuffed Animals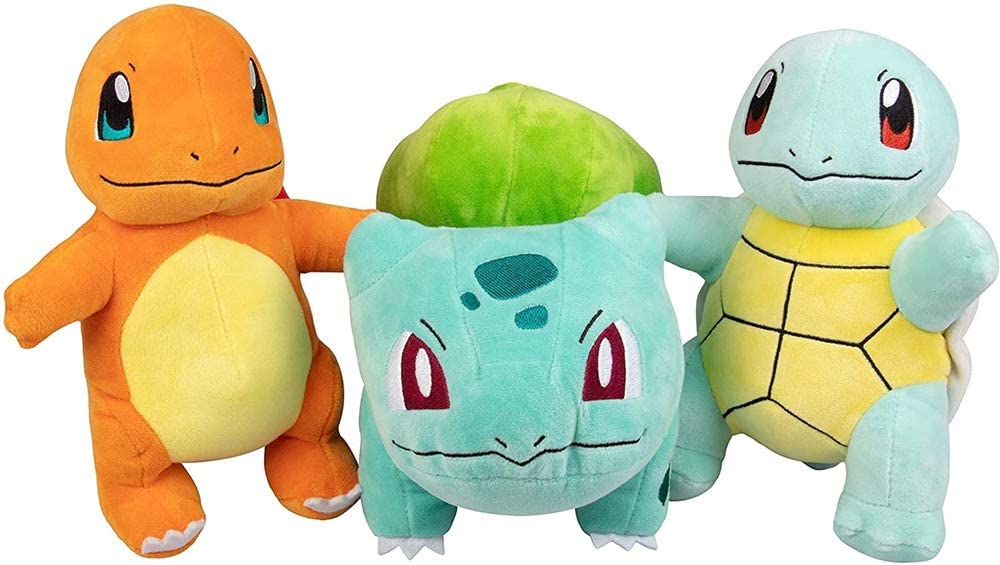 If your child enjoys the first entry on this list, the TOMY Pokemon My Friend Pikachu, why not add another plush Pokemon to their collection and give plush Pikachu a few friends of his own? You can't go wrong with the Pokemon Plush Starter 3 Pack, which comes with 8-inch, plush toy versions of Charmander, Squirtle and Bulbsaur (each one has a $41.99 individual price tag), the starting Pokemon from the first generation of Pokemon games. It's clear why these plush, stuffed animals make one of the best Pokemon gifts for kids — they're soft, cuddly and not easily broken when dropped — which makes them great for younger children.
Some more great Pokemon plush toys include Gengar, Grookey, Mimikyu and the Espeon/Umbreon 2-pack.
Otherwise, if your child has a preferred Pokemon, try searching for "[Pokemon name here] Plush toy" in the Amazon search bar to see if you can nab their favorite.
Giant Snorlax plush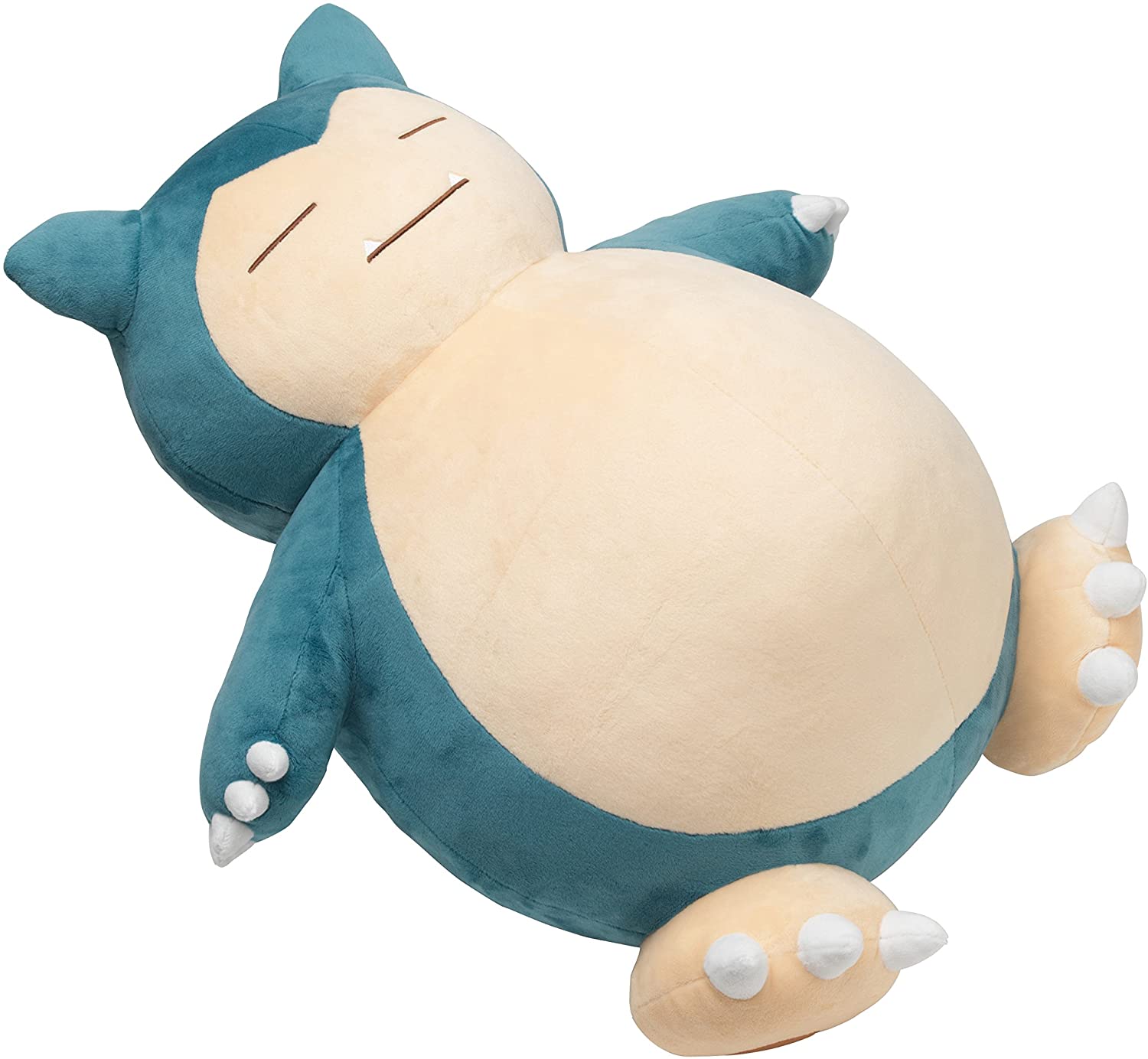 Your little tyke has (finally) finished running around all day dressed as Ash Ketchum doing Pokemon thangs with their best friend Pikachu and now they (and as a result, you) can kick back and relax. And what better way to relax than with one of the most indolent, borderline narcoleptic, but overall cuddly Pokemon of them all? Snorlax.
Just try not to take it personally when your child would rather hug Snorlax than you. Hey, you're competing with one of the premiere Special Defense walls in the entire franchise and among Ash Kechum's strongest Pokemon — don't feel bad.
Pokemon Mega Construx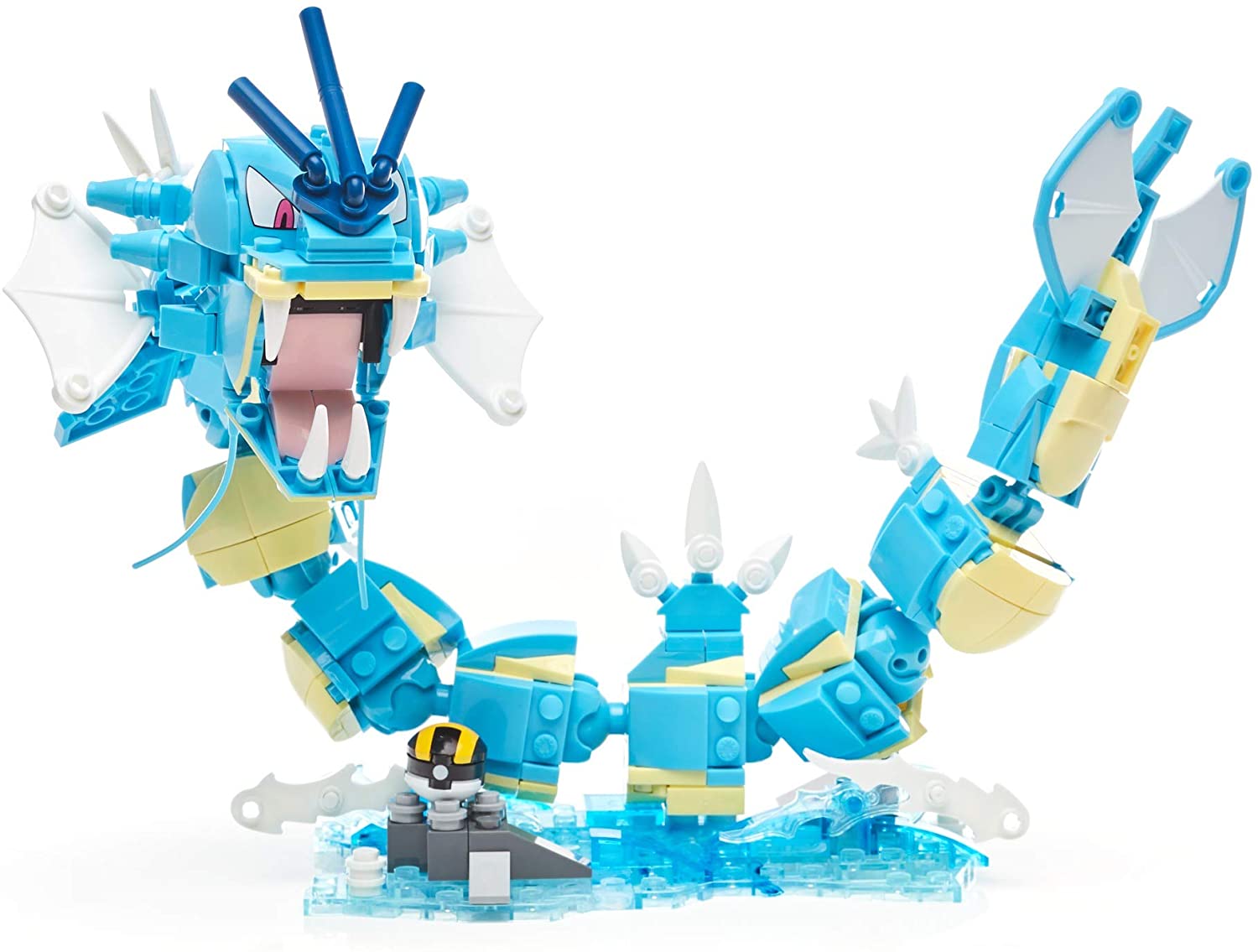 Lego Pokemon might not be a thing (the license to Pokemon is owned by Mattel's Mega Brands, one of Lego's competitors) but there are some worthy alternatives: Pokemon Mega Construx and Nanoblock Pokemon. These make some of the best Pokemon gifts for kids because they'll both be able to play with their favorite Pokemon once they're finished but also derive a sense of accomplishment through the construction process (with your help if needed, of course).
Mega Construx are a sibling brand of Mega Bloks, the latter being larger-sized building block toys intended for pre-schoolers; Mega Construx are intended for older kids who have graduated from Mega Bloks and are looking for slightly more complex sets. (Mega Construx are also fairly Lego compatible, meaning they can be used in cohesion with some Lego pieces.)
Although the more adorable Pokemon like Pikachu and Eevee are adequately represented, the most impressive Pokemon Mega Construx sets are Gyarados (although my love for Gyarados might make me a little biased) and Charizard, the former of which towers over other Pokemon Mega Construx at nine, fully articulated inches. Some other striking Pokemon Mega Construx which look true to their video game/anime counterparts include Scyther, Charmeleon, Ivysaur, Lapras, Lucario and Zubat.
Some of the best bang for your buck Mega Construx packages (which are also sure to keep your kid happy too) are the "Versus," sets, which come with two Pokemon Mega Construx. These Versus packages also include special blocks and pieces that represent their respective Pokemon's special abilities and unique stages upon which the Pokemon can do battle.
Standout Versus sets include Squirtle vs. Charmander, Greninja vs. Electabuzz, Mew vs. Mewtwo clash (link below) and Pikachu vs. Bulbasaur .
Another great option is the Mega Construx Pokemon Multipack, which comes with 5 unique Pokemon Mega Construx — Teddiursa, Mankey, Pikachu, Sneasel and Oddish — and a Pokeball to catch them with (of course). The Mega Construx Pokémon Every Eevee Evolution! Bundle is another set sure to please as it comes with every type-evolution of popular Pokemon Eevee.
Nanoblock Pokemon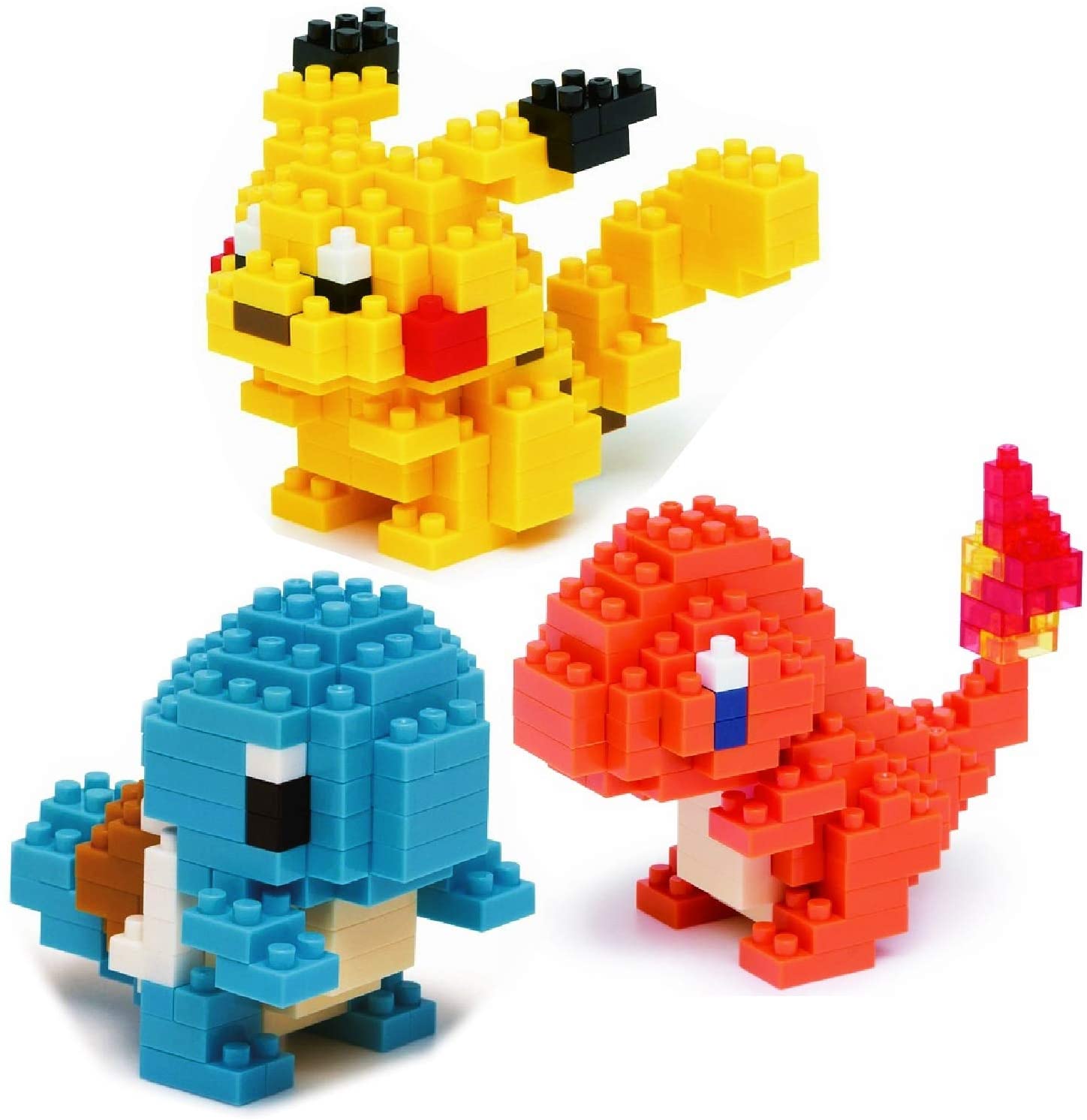 If the Pokemon Mega Construx aesthetic doesn't appeal to your child, another Lego-esque alternative is Nanoblock Pokemon, made by a Tokyo, Japan-based company called Kawada.
The Nanoblock Pokemon are more blocky in design, so Lego enthusiasts should find their similar look very appealing; they're also smaller and in most cases, more reasonably priced than the Pokemon Mega Construx as a result.
The best Nanoblock Pokemon sets to consider are the gift set bundles, which come with more than one Nanoblock Pokemon; some popular ones that your child will enjoy include the Pikachu, Charmander and Squirtle 3-pack gift set bundle (you'll save $6 on the 3-pack, considering the individual Pokemon are $12 a piece); the Groudon, Kyogre and Rayquaza 3-pack gift set bundle (these Nanoblock Pokemon are nearly twice the size of the previous ones, befitting of their Legendary Pokemon status); the Snorlax, Lapras and Dragonite 3-pack; the Vaporeon, Flareon and Jolteon 3-pack Eeveelution gift set and the Venusaur, Blastoise 2-pack.
Popular single Nanoblock Pokemon include Pikachu, Charizard, Mega Charizard and Mimikyu.
There's a broad selection of 3-packs, 2-packs and single Nanoblock Pokemon from which to choose on Amazon too, so if your child has a favorite Pokemon that's not listed here, do a search for "Nanoblock Pokemon [insert Pokemon name here]."
Pokemon action figures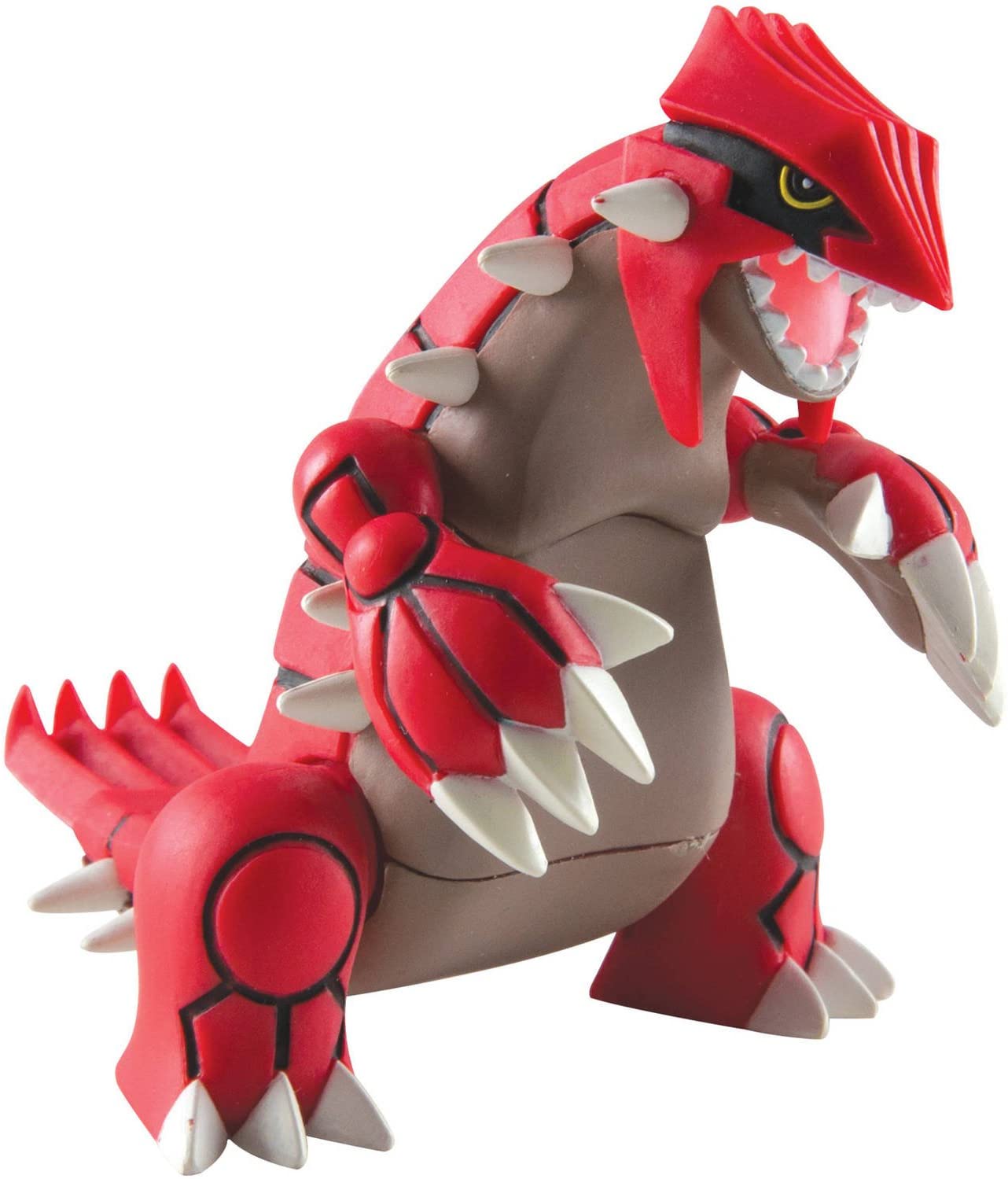 If your kids want to forego the building aspect of their Pokemon toys or want them to look "less kiddy" and more accurately represent the characters' designs from the anime/video games, then add some Pokemon action figures to their collection. These are no-brainers as one of the best Pokemon gifts for kids because, what child doesn't love the toy versions of their favorite fictional characters?
Some quality brands to look for include Tomy, who, as I mentioned in the first entry, is a distinguished name in the Pokemon toy department and one of the best Pokemon gifts for kids manufacturers; it's easy to see why — they're highly detailed and articulated as well.
Some standout TOMY Pokemon figures include Snorlax, who's 6" tall, has rotating feet (so he can achieve his trademark sleeping pose) and a rubbery belly; Groudon, the legendary Ground Pokemon introduced in Pokemon Ruby (link below); Greninja, a Water/Dark dual-type who is one of Ash Ketchum's coolest and deadliest Pokemon and Mega Charizard Y, which is a sleeker-looking, Mega-evolved form of Charizard from Pokemon X and Y.
Other Pokemon action figures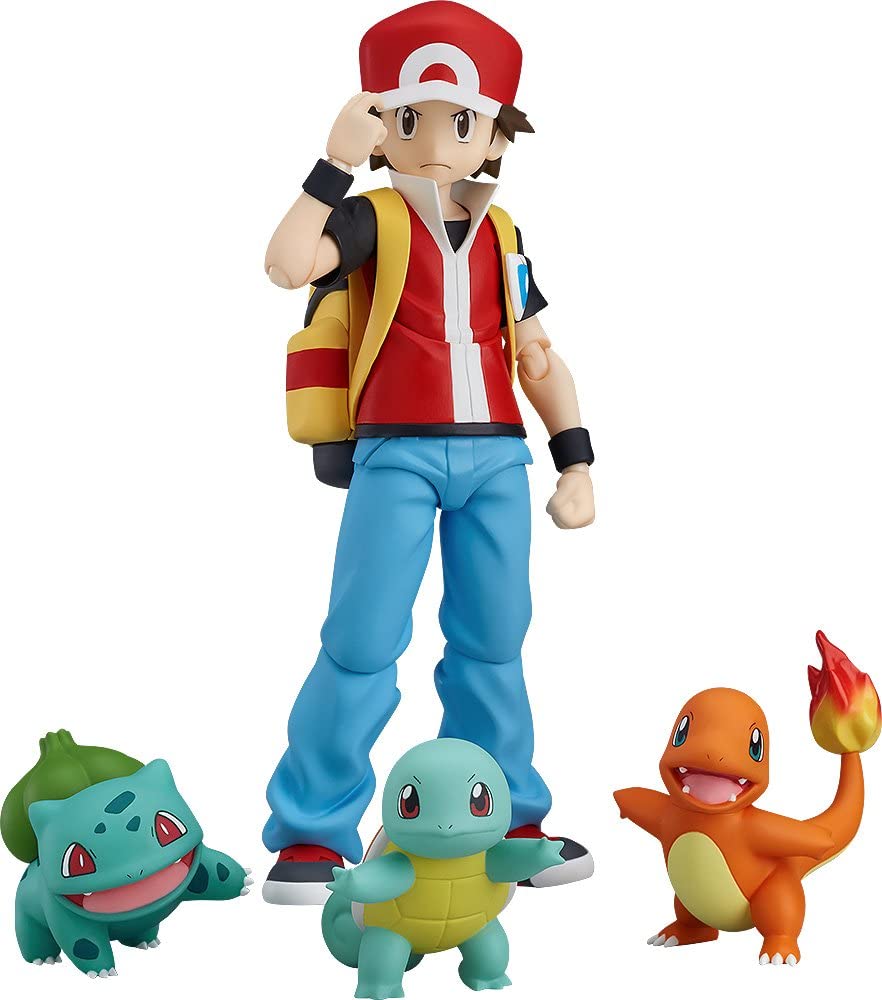 Another great Pokemon action figure line is the figma series, a Japanese action figure line produced by Max Factory and distributed by Good Smile Company. The figma figures are unique in that they are sold with multiple accessories like exchangeable faces, hands and other optional parts. They're also beautifully sculpted and eye-pleasing but highly articulated at the same time. If your child has a game room, I'd consider the Red figma a must-have. Red is the trainer from the first Pokemon games which spawned the animated series and the character upon which Ash Ketchum is based. This figma is a little pricey but well worth the money for any serious Pokemon enthusiast. The look on your child's face when they first see this sculpt will reassure you why it's undeniably one of the best Pokemon gifts for kids.
Some other painted Pokemon figures in the same vein as the Red figma are the Bandai Collectors Division Ash Ketchum (which comes with Pikachu) and for Team Rocket fans, the Bandai Collectors Division Jesse, James and Meowth PVC painted action figures.
If you're looking for Pokemon figures which are less articulated and not so much toys in the sense that your child will carry them around and "play" with them, try the next entry in my list.
Pokemon statues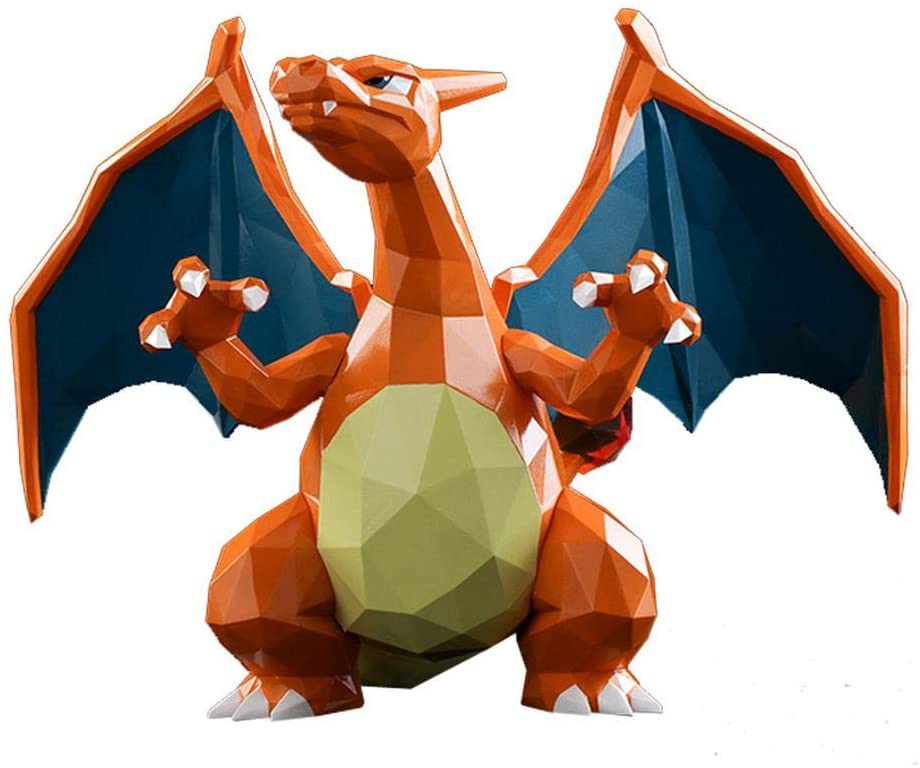 As I mentioned in the last entry, these entries are less toys and better suited to desktop decoration and shelf lining. They're better for children in the age range that have outgrown toys and want something to further evince their interest in the Pokemon games and anime. That being said, they're still one of the best Pokemon gifts for kids because they're undeniably impressive to look at.
We'll go more in-depth on Pokemon statues in a separate article (because there are a lot of good ones) but some quality Pokemon statue choices include the 6″ Bingfeng Anime Charizard statue seen above; this Bingfeng statue of Ash hanging out with Pikachu, Bulbasaur, Charmander and Squirtle beneath a tree (this one is excellent if you know your child is a fan of the anime series) and this amazing 13" Mewtwo statue from Jazwares, with illuminating Psychic powers emanating from its hands and body (batteries not included, link seen below).
Pokemon trading cards
Another facet of the Pokemon franchise which is still going strong after 20 years is the Pokemon Trading Card Game. The Pokemon TCG makes one of the best Pokemon gifts for kids because you'll not only be able to go through the rules and interactive facets of the game — but also have fun collecting cards and building decks together as well.
A great deck for beginners is the Pokemon TCG: Sun & Moon Team Up, Relentless Flame deck, which comes ready to play with 60 cards and a promo Charizard.
From there you'll want to try and migrate towards more recent packs that have been released. Be wary, however — always read the user reviews to ensure that you're not buying from a seller that is known for selling packs that have been tampered with. The links I'll list here are from sellers who received high ratings on Amazon and didn't receive numerous complaints about being ripped off or purchasing resealed packs in the comments section, such as this Pokemon Card Game Sun & Moon Expansion Pack Double Blaze Box and these Pokemon Sword and Shield Darkness Ablaze x4 booster packs and Pokemon Vivid Voltage x10 booster packs from Dan123yal Toys.
Pokemon video games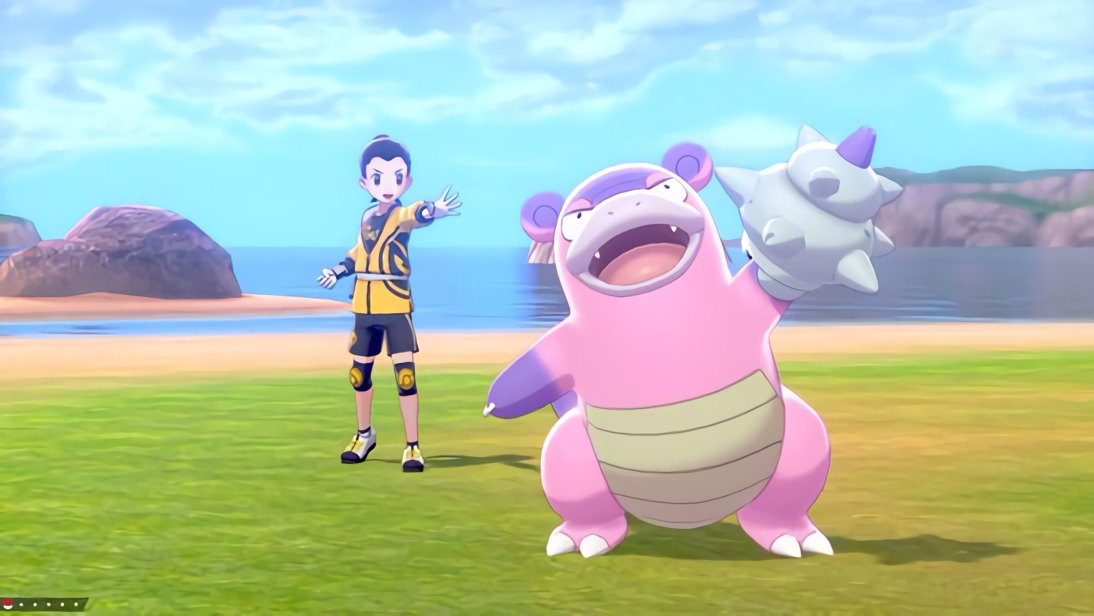 And of course, in what is perhaps the most obvious example of the best Pokemon gifts for kids on this list, we come to the video games. Kids usually like to keep up with what's cool at the moment, so your best bet is to start them out with Pokemon Sword and Shield, the most current games in the series for the Nintendo Switch.
From there, see if they want to work their way backwards with the Generation VII games, Pokemon Ultra Sun and Ultra Moon for the Nintendo 3DS handheld system or if they want to try Pokemon: Let's Go, Pikachu! and Pokemon: Let's Go, Eevee!, which are remakes of the 1998 Pokemon Yellow game for the original Gameboy. If they enjoy these games and you're feeling nostalgic, you could even play through the original Pokemon Red and Blue for the original Gameboy with them for a little holiday bonding.
The possibilities when it comes to introducing your child to the past Pokemon video games catalog is endless, so have some fun with it!
---
Did you feel content knowing you succeeded as a provider and cool parent when your children showered you with adulation and love after you used this guide to buy the best Pokemon gifts for kids this holiday season? Feel free to share your success stories in the comments section.