We already know Cyberpunk 2077 is going to be a big game; the potential for over 175 hours of gameplay isn't out of the question according to a recent run-through on Nomad mode by CD Projekt Red QA Lead Lukasz Babiel. In terms of file size, Playstation Game Size has the base Cyberpunk 2077 game estimated at about 72 GB for the PS4, Xbox One and PC; it should be around 80 GB when it comes to the PS5 and Xbox Series X|S consoles.
But what about when it comes to the actual Cyberpunk 2077 map size, proportionally speaking? In other words, how big will Cyberpunk 2077's in-game world be?
Cyberpunk 2077 map overview
For a better idea of the exact Cyberpunk 2077 map size, let's take a look at the intended districts. The main area of Cyberpunk 2077 is Night City. Night City is a sprawling, neon-lit metropolis stacked with skyscrapers and crammed with corporate edifices.
The six main districts of Night City include City Center, "the showcase of Night City," and according to the official CDPR description, "where you can witness the unrivaled might of megacorps in all its arrogance. This is where the rich and overworked spend their lives, building Night City's economic power."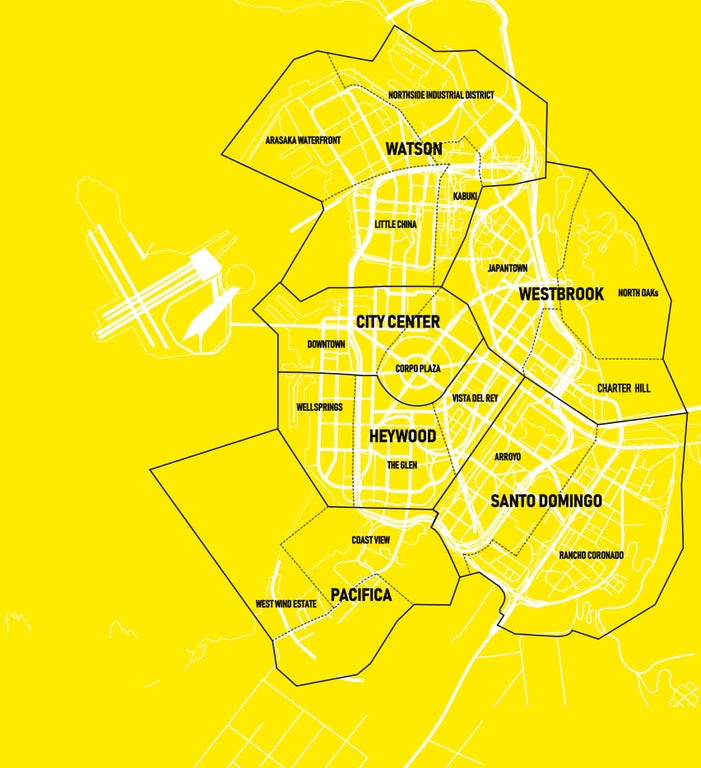 The Westbrook district, which is the home to celebrities, wealthy elites, corporate types and also the sub-district of Japantown, the cultural haven for the city's Japanese (and Yakuza) community.
Watson, the starting area of the game for the player and one of Night City's most destitute locales, with myriad abandoned industrial plants and factory buildings. Watson is also the battlegrounds for the warring Maelstrom and Tyger Claws gangers.
Pacifica, once an "upper-class corporate-sponsored residential suburb directly south of Night City" and now "a lawless and anarchic combat zone district."
Heywood is the district on the Cyberpunk 2077 map which features the biggest dichotomy; the North side of Heywood is full of affluence, with lush parks and towering skyscrapers while the South side is dominated by dangerous slums home to the The Valentinos and 6th Street gangs.
Santo Domingo, one of Night City's oldest districts and the most industrialized. According to the official description, "Corporations use it as a testing ground for industrial projects, destroying old factories just to build new ones, while residents scrape a desperate living in crowded megabuildings — wishing for something better."
Now that we're familiarized with the different zones on the Cyberpunk 2077 map, let's revisit the initial question of how big we can expect this world to be in terms of dimensions and how that might compare to other open-world games.
Cyberpunk 2077 map size
Back in August, CDPR Producer Richard Borzymowski said that Cyberpunk 2077 would probably be smaller than The Witcher 3 in terms of pure surface level size, but at the same time would be a lot more densely packed.
"If you look at pure surface [in terms of] square kilometers," Borzymowski told GameRadar, "then Cyberpunk 2077 might even be a little bit smaller than The Witcher 3, but it's the density of the content, taking the world of The Witcher and squeezing it right in, deleting the wilderness between."
A recent Cyberpunk 2077 map measurement estimation video from YouTuber Edgerunner Cold delves into how big exactly that is; by using in-game coordinates from Cyberpunk 2077's most recent photo mode trailer, Edgerunner was able to take data about some of the in-game locations mentioned above and extrapolate that data onto an existing map of Night City to calculate their size.
Edgerunner's results estimate that the Cyberpunk 2077 map is about twice the size of GTA 5 and close to twelve times the size of Velen and Novigrad combined in The Witcher 3: Wild Hunt. That sounds pretty big to us.
Early review copies of the game reinforce Richard Borzymowski's notion that Cyberpunk 2077 will be densely packed as well. As CDPR Senior Level Designer Miles Tost said of Cyberpunk 2077 back in October, "If you worry about the amount of content on our game, please don't. We're notoriously bad at judging how long gametime is in our games (I remember we estimated players would max out W3 at 100h), so we try not to do that anymore. But I can only keep saying what I have been saying in the past: you guys have seen nothing yet. It's less than a month now, soon all your questions will be answered (hopefully satisfyingly!) and I can't wait for you all to play it finally."
Cyberpunk 2077 is set to release on December 10th on the PS5, Xbox Series X|S, PC, PS4, Xbox One and Google Stadia platforms. The game is already available for pre-load on Xbox platforms and will be available for pre-load on December 7th for the PC (3 AM PST on GOG, 8AM PST on Steam and Epic Games Store) and on December 8th for the Playstation consoles.
What do you think of the estimated Cyberpunk 2077 map size? Do you think the game will have enough content to sate your dystopian, open-world, action RPG needs? Let us know in the comments.