It's December 10th and you know what that means: Cyberpunk 2077 is finally here. And although the wait for CD Projekt Red's highly-anticipated, futuristic, open world, action RPG was long and riddled with delays, already the game is breaking records mere hours after its official release.
For starters, Cyberpunk 2077 broke the Steam record for most concurrent players in a single-player-game with a 24-hour-peak of 1,003,264. The previous recordholder was Bethesda's Fallout 4, which saw 472,962 concurrent players at the game's launch in 2015.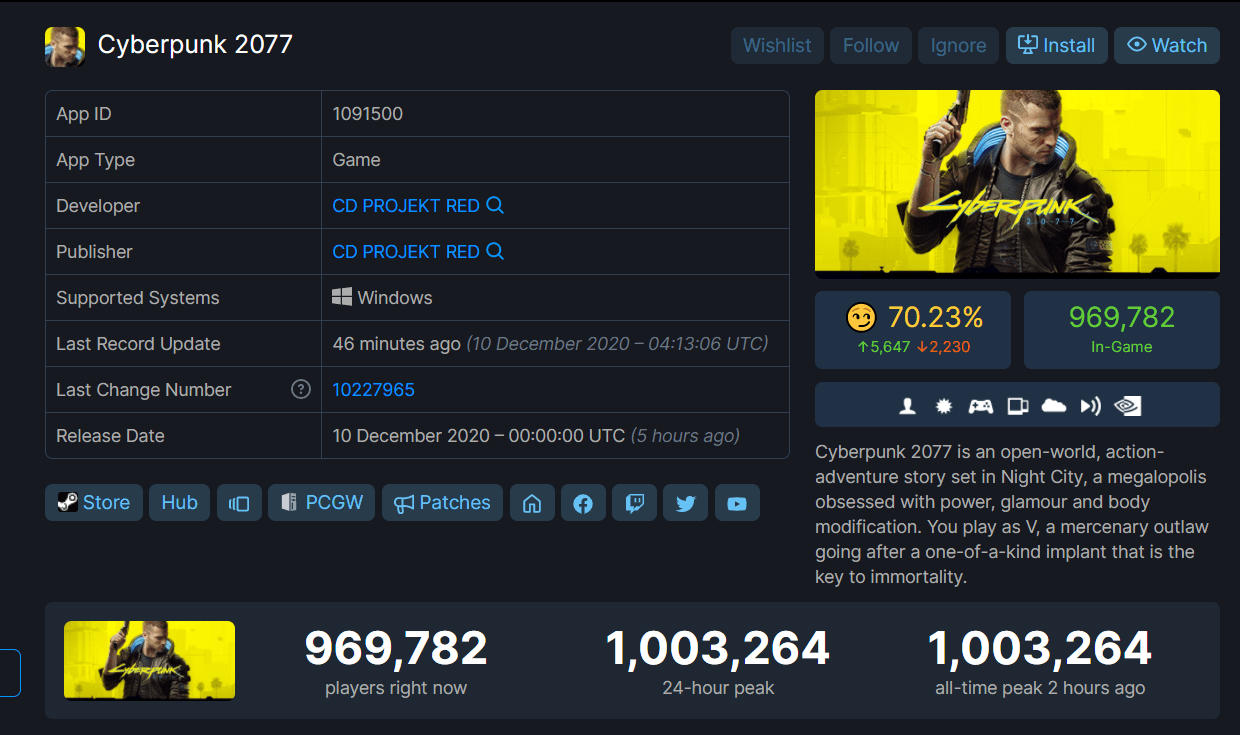 The only games to surpass Cyberpunk 2077's numbers on Steam are multiplayer games at this point; the current overall record was set by PUBG, with 3,257,248 players logging on simultaneously on January 13, 2018. Counter-Strike: Global Offensive has reported numbers of 1.3 million players and Dota 2 with 1.29 million.
Steam isn't the only platform where Cyberpunk 2077 boasts colossal numbers. According to DailyESports, the game boasted a million concurrent viewers on Twitch, a feat that isn't easily accomplished on the video livestreaming platform.

As of this writing, 12:22 AM EST on December 10th, Cyberpunk 2077 doesn't boast quite a million concurrent players, but still holds the highest viewership on Twitch with nearly 620,000 concurrent viewers. That beats out other highly popular games like Fortnite at 106,000; Call of Duty: Warzone at 50,000; Among Us at 34,100 and Minecraft at 39,000.
While the earliest Cyberpunk 2077 reviews describe the game as worthy of all the hype, one of the biggest detriments is the slew of bugs, such as slow-loading textures, missing items and floating vehicles. Although in a game as big as Cyberpunk 2077, launch day bugs are nearly unavoidable, a day one console update will reportedly make Cyberpunk 2077 like a "different game" than the one early reviewers had, according to CDPR's Fabian Mario Döhla.
Was "Cyberpunk 2077 breaks record on Steam" a phrase you thought you'd hear upon the game's December 10th release given all the hype surrounding it or are you genuinely surprised at its viewership and player base? Sound off in the comments.