We reported not too long ago that Cyberpunk 2077 was still the top-selling title on Steam for the third consecutive week, even among all the criticism and controversy from critics and fans alike and apparently that sales success has carried over into the new year as well.
In fact, the latest numbers from Steam Database indicate that Cyberpunk 2077 is the top-selling title on Steam for the seventh straight week, beating out contenders like Sea of Thieves, Rust and even the best-reviewed Steam game of 2020, Hades.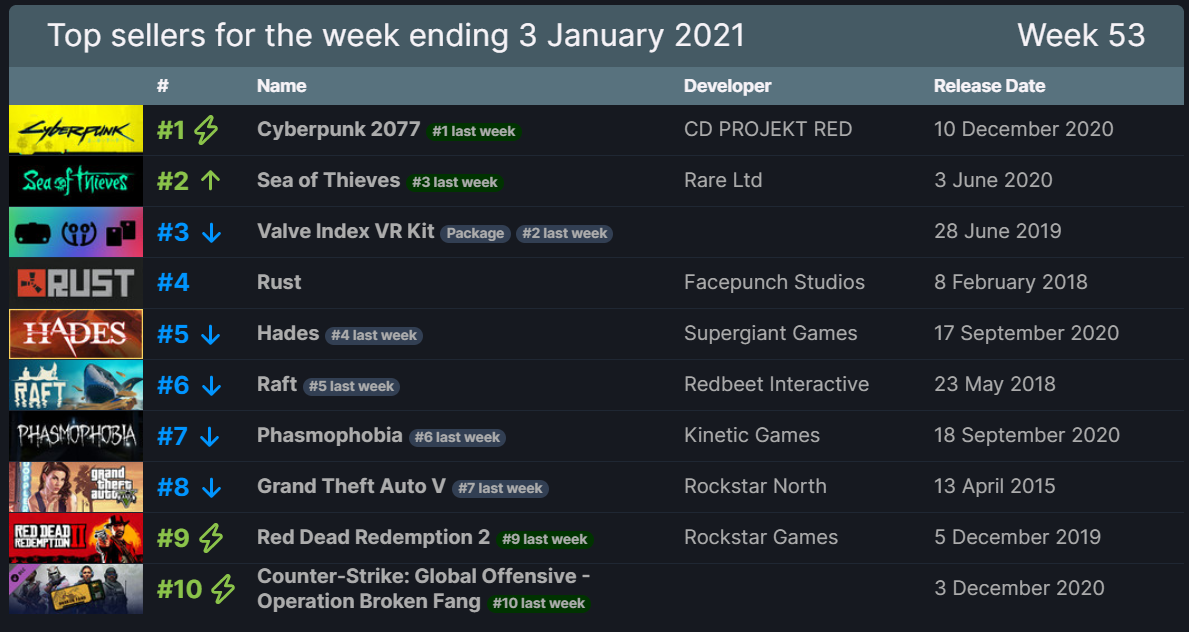 Despite criticism regarding how Cyberpunk 2077 ran on last-generation systems, Xbox One and Playstation 4, CD Projekt Red has since apologized for its missteps on the aforementioned platforms and diligent with hotfixes and patches.
As we said in our recent critique of Cyberpunk 2077's release, despite the fact that CDPR released the game in an unfinished state, especially for the last-generation systems, the game is still one of the most beautiful and visually impressive games we've seen — particularly when it comes to Night City itself.
"For starters, Night City is one of the most impressive and all-around magnificent-looking video game cities ever. That's not even hyperbole. From the sleek, neon-lit skyscrapers to the "fortress-like skyline" of the layered megacorp towers to the enormous LED-screens advertising futuristic wares to the hologram-mantled, yokocho-styled alleyways to the arid, desert plains of the Badlands — the world of Cyberpunk 2077 is undeniably vast, impressive, and beautiful even in areas that they shouldn't be, like the destitute slums of Watson."
The diverse cast of characters are impressive as well. "The characters too, such as rainbow-haired, Braindance-operating Judy Alvarez or the free-spirited, ex-nomad Panam Palmer and of course, the game's poster character played by Keanu Reeves, sunglasses-sporting, rebellious, ex-US military vet Johnny Silverhand, are diverse and immaculately detailed… Even little touches like the eye-catching animation put into reloading a firearm or the way Mantis Blades whirl with deadly fluidity from your cybernetic arms as they slice and dice your enemies are things of magnificence to behold."
The fact that Cyberpunk 2077 is the top-selling title on Steam for the seventh straight week is no fluke; despite the game's rocky release, there is an undeniably impressive game whose strong points should be accentuated only moreso as the weeks pass and more hotfixes and patches are implemented.
Do you think the fact that Cyberpunk 2077 is the top-selling title on Steam for the seventh straight week is a fluke? Though the game certainly made mistakes upon its release, can it right the ship, so to speak? Let us know in the comments.