The holiday season is finally here and you know what that means, don't you? That's right, putting together a team of fabulously festive holiday season themed Pokemon – said no one ever. Well, except for me of course.
So humor an overgrown, Pokemon-loving man child as he puts together the very best holiday season themed Pokemon team he can muster as your stocking stuffer this Christmas, Hanukkah and any other holiday season festival you might celebrate thist time of year, won't you? Rumor has it that every time you do, a Togekiss gets its wings.
Delibird
What holiday season themed Pokemon team would be complete without the avian analogue to jolly old St. Nick himself, Delibird? Delibird not only looks a lot like Santa Claus, with its red penguin body and white, beard-like facial feathers but it's also packing a trusty Santa sack over its shoulder, which portends its signature special move, Present.
Present is a unique move in that it can either deal damage against the enemy (with a random base power of 40, 80, or 120) or heal the enemy for 1/4th of its full HP.
Sadly, despite being a cool-looking bird version of Father Christmas, Delibird is outclassed by pretty much every other fully evolved Pokemon in the game from a competitive battling standpoint thanks to its horrific stats and equally pitiable movepool. And Present, although a perfectly thematic maneuver, is anything but a gift in battle.
Notwithstanding, this is Christmas we're talking about – which means based on sheer, symbolic looks alone Delibird must be the crux of any holiday season themed Pokemon team. You'll just have to hope your opponent's team is either so overjoyed with yuletide merriment at the sight of Delibird or so overcome with pity at the fact that you actually chose it for a Pokemon battle that it somehow favorably affects the outcome of said match.
And wouldn't that just be a Christmas miracle?
Suggested moveset:
Delibird @ Focus Sash
– Spikes
– Rapid Spin
– Icy Wind
– Destiny Bond
Stantler
If the previous holiday season themed Pokemon entry, Delibird, represents the legendary Kris Kringle, then you might hear it squawk something like, "Now, Dasher! now, Dancer! now, Stantler!" for our next entry, the big-horned reindeer Pokemon, Stantler, as it helps to tow Delibird's sleigh across the night skies of the Pokemon world on Christmas Eve.
Although Stantler might not have a luminous red nose like Rudolph, it does possess a preternatural talent that might serve even more useful when it comes to delivering presents to all the well-behaved children of the Pokemon world. According to Stantler's Pokemon Gold PokeDex entry, "[Its] curved antlers subtly change the flow of air to create a strange space where reality is distorted."
Reality distortion would come in handy in terms of ensuring Delibird is able to slide down chimneys and deliver myriad presents without getting caught or waking up a bunch of whiny kids, wouldn't it?
Although, what if all those naughty little Garys and Jesses out there aren't satisfied with the lumps of coal they find in their stockings and decide to mutiny against Delibird? Stantler's got that covered too.
From its Pokemon Silver PokeDex entry:
Those who stare at its antlers will gradually lose control of their senses and be unable to stand.
Pokemon Crystal:
The round balls found on the fallen antlers can be ground into a powder that aids in sleeping.
So you better be good for goodness' sake this holiday season, kids. Or else you can take a seat. And go sleep. Because Delibird and Stantler ain't got time for ya misbehaving asses on this night.
Suggested moveset:
Stantler @ Life Orb
– Double-Edge
– Sucker Punch
– Jump Kick
– Signal Beam
Sceptile
O Christmas Tree, O Christmas Tree
How lovely is thy Leech Seed!
Fun fact: We like Sceptile. Sceptile's tail resembles a Christmas tree. Therefore, Sceptile is repping the Christmas tree for our holiday season themed Pokemon squad.
Suggested moveset:
– Leaf Storm
– Dragon Pulse
– Protect
– Leech Seed
Starmie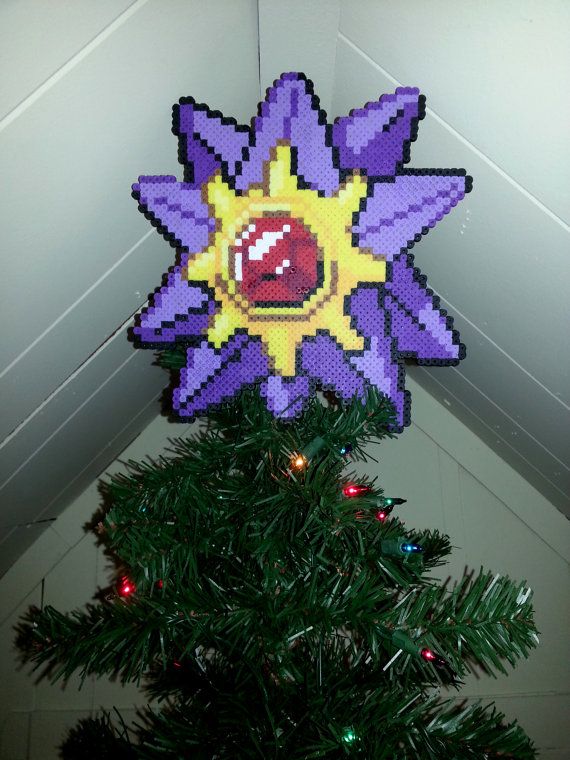 What would a Christmas tree be without a shimmering star up top?
That's where old school favorite Starmie comes in. The Water/Psychic dual-type has been one of the most solid competitive battling Pokemon since its introduction in Generation I thanks to its solid Speed and Special Attack stats and its ability to function in either an offensive wallbreaker or utility role.
For our holiday season themed Pokemon team, Starmie, the star atop our Christmas tree will also serve as an important hedge against one of the team's biggest weaknesses: Fire-type attacks, which are super effective against Ice/Flying-type Delibird and Ice-type Darmanitan. Which brings us to our next entry.
Suggested moveset:
– Thunderbolt
– Hydro Pump
– Ice Beam
– Recover
Darmanitan-Galar
What else do we need now that we have Santa Bird and a decorated Christmas tree on our holiday season themed Pokemon team? How about a snowman? Of the abominable variety, that is.
Darmanitan-Galar is a wintry powerhouse that hits hard enough to make Krampus recoil in fear; the hulking yeti's excellent Attack stat (140 base) combined with its Gorilla Tactics trait (the Pokemon's attack is 1.5x, but it can only select the first move it executes) makes it the perfect candidate for a Choice Scarf, a held item which multiplies a Pokemon's Speed by 1.5 (but also relegates the Pokemon to using only the first move selected). With Choice Scarf Darmanitan is able to outspeed even high speed Dragon-types like Dragapult (142 base speed) and Choice Band Haxorus (97 base speed), making it an ideal sweeper.
Suggested Moveset:
Darmanitan-Galar @Choice Scarf
– Icicle Crash
– U-Turn
– Flare Blitz
– Earthquake
Chandelure
Rounding out our holiday season themed Pokemon team is Ghost/Fire dual type Chandelure, whose lit candle design aptly fits the mold for its representation of a menorah on Hanukkah.
Chandelure boasts superb Special Attack (145 base) and offensive typing, as well as above average Speed; its access to the Grass-type move Energy Ball means it can do noticeable damage to bulky Water types that will switch in to contest it as well.
Suggested moveset:
Chandelure @Leftovers
– Fire Blast
– Shadow Ball
– Toxic
– Energy Ball
---
What did you think of our holiday season themed Pokemon team? Are there any obvious choices we left out that you think should have been included? Let us know in the comments. And Happy Holidays!