Electronic Arts has revealed Star Wars: Squadrons, a deeply-engaging, first-person starfighter dogfight game that will see players taking the helm of various spacecraft from the Star Wars series including iconic Rebel Alliance, New Republic and Resistance vehicles such as the X-wing, U-wing, A-wing, and Y-wing and Galactic Empire TIE Fighter, TIE Interceptor, TIE Bomber, and TIE Reaper fighters.
Star Wars: Squadrons will be developed by Motive Montreal in association with Lucasfilm; although official gameplay footage won't be revealed until the EA Play Live Event on June 18th, the game will feature an array of different multiplayer modes such as Fleet Battles mode, where players take control of a starfighter pilot who will command a number of "iconic" New Republic and Imperial ships. Alongside four other teammates, the objective of Fleet Battles will be to take part in "strategic" space battles to take out the enemy's flagship. Another multiplayer mode, Dogfights, has players working together to take down as many enemy ships as they can.
Perhaps learning from the continued backlash against microtransations in previous titles like Star Wars: Battlefront II, EA stated Star Wars: Squadrons will emphasize considerable cosmetic and game-defining customization options that will earned solely through gameplay. Players will be able to unlock new weaponry, hulls, engines and shields in addition to cosmetic upgrades such as cockpit and hull exteriors and the overall look of the starfighters.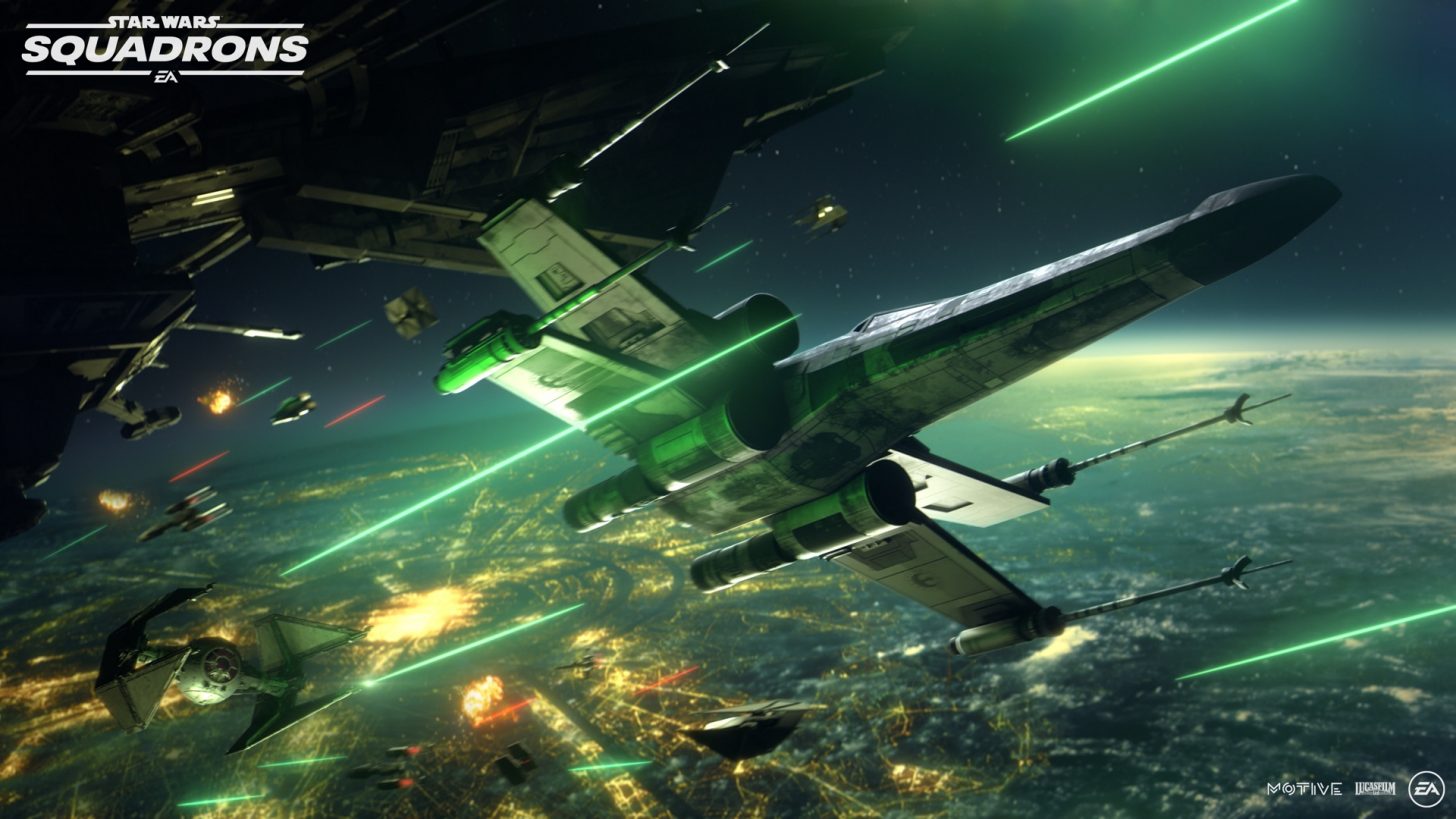 "We created this game for every Star Wars fan who has ever dreamt about soaring across the galaxy in their favorite starfighter," creative director of Motive Studios Ian Frazier said in an official statement.
While 5v5 dogfights and multiplayer modes is the most emphasized play mode of the game's announcement, Star Wars: Squadrons will feature an involved single-player mode, which takes place after the Battle of Endor from Star Wars: Return of the Jedi, which saw the destruction of the DS2-Death Star. The single-player mode will put players into different perspectives, including missions from the viewpoints of both the New Republic's Vanguard Squadron and the Galactic Empire Titan Squadron. In addition, EA promises an "authentic story" with a "diverse cast of original characters" and guest appearances from "familiar faces," which, if the trailer is any indication, will include legendary star pilot Wedge Antilles.
Star Wars: Squadrons is scheduled to release on PC, Playstation 4 and Xbox One platforms on October 2nd for $39.99. The game will also be compatible with VR headsets on PC and the PlayStation 4. As of this writing, EA hasn't made it clear whether Star Wars: Squadrons will be made available for next-generation Xbox Series X or Playstation 5 formats.
For pre-order information, visit the official EA Star Wars: Squadrons overview page.