After what seemed like a millennium of waiting, Cyberpunk 2077 is finally here (and already breaking records for most single players in a Steam game). Before its release, Judy Alvarez, a tattooed, rainbow-haired, tanktop-sporting character heavily featured in the game's promotional material garnered an impressive following and generated plenty of buzz (and all this even before the game had been released).
Which is why when we saw this Judy Alvarez cosplay from Ukranian cosplayer Anastasiya Dryomova, we knew we had to feature it. Although we've already featured a stellar Ciri and V cosplay by Irine Meier, Anastasiya's Judy Alvarez cosplay is every bit as impressive and perhaps even more true to form for Night City's premiere Braindance technician and romance interest (for female players only). Anastasiya legit looks like she stepped out of CD Projekt Red's futuristic, open world RPG.
The following are our favorite images of Anastasiya's Judy Alvarez cosplay from Cyberpunk 2077.
According to the official CDPR description, Judy Alvarez is "Night City's premier braindance technician, heavily respected for her skills, innovation and creativity. Motivated to change things for the better she teamed with The Mox and currently works for them as a BD technician and editor."
According to the Cyberpunk 2077 wiki, a braindance is "a sort of personal version of the Net and genre of experimental sonic excursions. It is an immersive virtual reality and sonic complexity. Braindances enjoy wide use in the Cyberpunk world. They are most often used for entertainment (the new version of video games/TV/movies/breakbeats, or types of entertainment that combine them together). They are also used heavily in psychology (they are a core part of the therapy used to treat Cyberpsychosis)."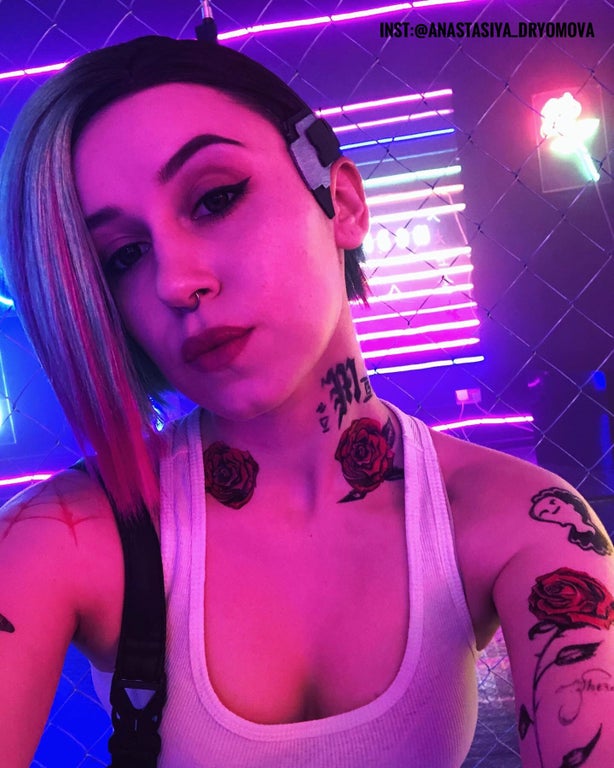 What did you think of this Judy Alvarez cosplay from Cyberpunk 2077 by Anastasiya Dryomova? Be sure to visit her her Linktr.ee, which has links to her social media pages, TikTok and MonoBanka and show her some support.