Today we are going to talk about a Noxian noble that appears in the background art of several Legends of Runeterra cards, namely Arachnoid Sentry, Arachnoid Host, Elise, Spider Queen Elise, Warden's Prey and (potentially) Frenzied Skitterer.
Now before I go into my theory of why he appears in all these cards, a quick refresher with Elise's lore. Her biography on the League of Legends Universe website tells us that she is a Shadow Isles Champion, but she's originally from Noxus. Specifically, she is from a noble Noxian family and from a very young age she learned how to use her beauty to manipulate men. She married a man from another noble Noxian family and manipulated him as well but when he realized that he had been manipulated for many years, he poisoned her with a powerful poison that disfigured her. After killing him, she met a witch who told her how to get back her beauty and her youth: she could do this by bringing men back to the Shadow Isles, more precisely as sacrifices to a spider god in the Shadow Isles and this spider god would basically grant her eternal youth (she also inherited the capacity to transform into a giant spider herself). Now that we know all this, let's look at the cards I mentioned above more closely.
In order, the cards appear to tell the story of a noble Noxian entering Elise's manor (1. Arachnoid Sentry, top left) who then gets attacked by one of Elise's spiders (2. Arachnoid Host, top right), who's then brought to the Shadow Isles by Elise (3. Elise, bottom left) and who's then imprisoned in Elise's webs (4. Spider Queen Elise, bottom right), presumably to be sacrificed to the Spider God we mentioned earlier. Now what about Warden's Prey and Frenzied Skitterer? Well this is where it gets interesting. Let's start with Warden's Prey.
Although his face seems distorted by fear in Warden's Prey art, we can recognize our Noxian noble by his outfit and the roses he's holding. Now, what is he doing in a graveyard with Thresh and when is this happening? Is it before or after Elise takes him to the cave and captures him in her webs? Your guess is as good as mine. Let's analyze the picture. There are two things that I find interesting here.
The first one is that our Noxian friend is apparently holding three roses:
Originally, he had four roses (as we can see in Arachnoid Sentry and Arachnoid Host):
How can we explain that? Well, if we look at Elise's art very closely, it looks like the Noxian noble is dropping one of his roses:
So could it be possible that Warden's Prey is actually happening AFTER Elise brought this poor guy to her cave? Does this mean that he managed to escape? Or do you think it is just his spirit unaware of the fact that he's already dead (similar to what happens to the young boy in the Shadow Isles cinematic)? Why is Thresh looking for the guy? Did Elise ask Thresh to help her find the Noxian noble because he escaped, or do you think Thresh is just looking for the soul of the Noxian that Elise sacrificed? Are they working together? (Feel free to tell me what you think in the comments.)
Now the second interesting thing to notice in the art of Warden's Prey is the fact that Thresh has two keys attached to his belt: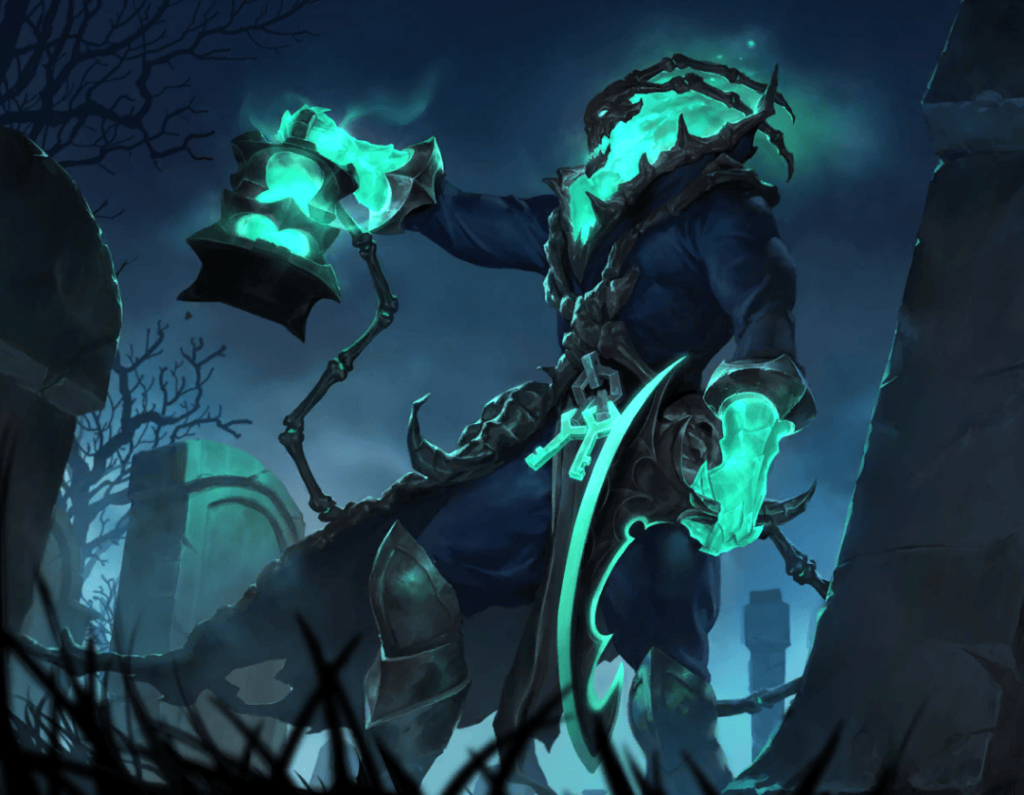 Have you noticed that Thresh has three keys in his Level 1 art but only two in his Level 2 art?
Now speaking of a missing key, did you notice what the Mageseeker Conservator is holding in his hand in his card art?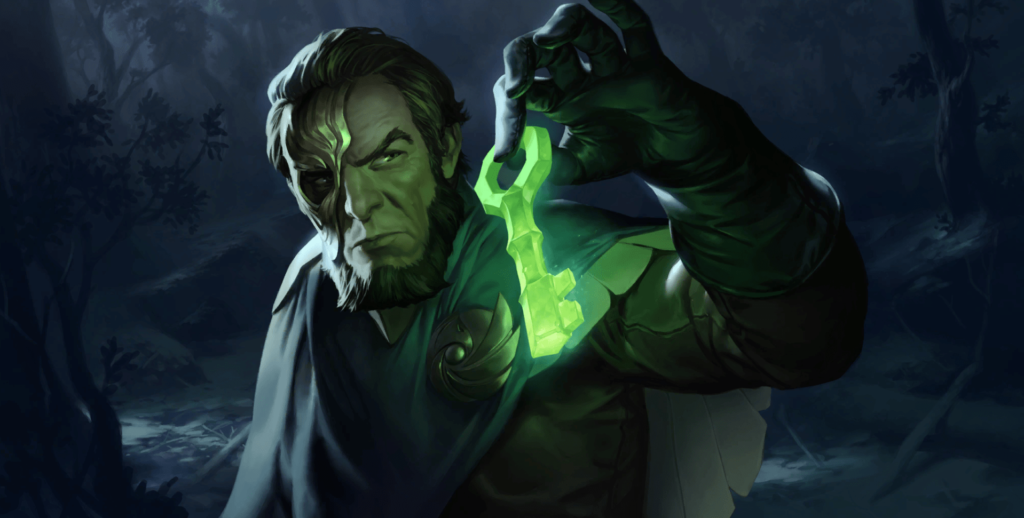 Yes, it's probably Thresh's third key! How do we explain this? (Again, I'd love to read your theories in the comments.)
With regards to Frenzied Skitterer, the art shows us a man completely paralyzed by spider webs on an altar, which is probably Vilemaw's altar (that we can see in the art of Fresh Offerings) and we can also see one rose on the altar. We can't see much of the man, but the rose could be an indication that it is still our Noxian noble, although we can't know for sure. If it is indeed him, the fact that there is only one rose left indicates that this is happening after Warden's Prey probably (since he still has 3 roses in Warden's Prey) so would this mean that he effectively escaped Elise's cave, but was then caught again and brought to Vilemaw's altar to be sacrificed?
One thing is for certain, the poor guy has been through a LOT. Although, that's what you get for following someone like Elise around.
Legends of Runeterra Art Credits:
Arachnoid Sentry:
Art Director: Jelena Kevic-Djurdjevic
Sketch & Composition: Claudiu Antoniu Magherusan
Artists: Alessandro Poli & Högni Jarleivur Mohr
Arachnoid Host:
Art Director: Jelena Kevic-Djurdjevic
Sketch & Composition: Claudiu Antoniu Magherusan
Artists: Michal Ivan & Alessandro Poli
Elise:
Art Director: Jelena Kevic-Djurdjevic
Sketch & Composition: Gerald Parel
Artists: Gerald Parel
Spider Queen Elise:
Art Director: Jelena Kevic-Djurdjevic
Sketch & Composition: Gerald Parel
Artists: Gerald Parel & Valentin Gloaguen
Warden's Prey:
Art Director: Jelena Kevic-Djurdjevic
Sketch & Composition: Marko Djurdjevic
Artists: Gerald Parel & Jelena Kevic-Djurdjevic
Thresh level 1:
Art Director: Jelena Kevic-Djurdjevic
Sketch & Composition: Michal Ivan
Artists: Gerald Parel, Alessandro Poli & Zheng Qu
Thresh level 2:
Art Director: Jelena Kevic-Djurdjevic
Sketch & Composition: Maki Planas Mata
Artists: Michal Ivan
Mageseeker Conservator:
Art Director: Jelena Kevic-Djurdjevic
Sketch & Composition: Maki Planas Mata
Artists: Gerald Parel & Michal Ivan
Frenzied Skitterer:
Art Director: Jelena Kevic-Djurdjevic
Sketch & Composition: Michal Ivan
Artists: Michal Ivan