After a teaser announcement, as well as an accidental leak on their website which revealed her moveset, Riot has officially revealed their newest agent for their first-person shooter Valorant: Killjoy.
Killjoy, the twelfth Agent revealed in Valorant, is a German robotics genius who uses her expertise to deploy killer robots, set down protective turrets, utilize nanobot-infused grenades and an Ultimate ability which confines all enemies caught within its radius. Here's a list of all Killjoy's abilities, told from her own perspective, which was leaked early on the official Valorant website before subsequently being taken down.
Ability 1 (C) ⁠— Alarmbot

Equip and deploy a bot that hunts down enemies who dare to get in range. When my killer robot friend reaches its target, boom goes the idiot. Alarmbot not only deals damage, it temporarily leaves affected targets vulnerable to double damage from all sources. Hold equip if you want to recall your deployed bot.
Ability 2 (Q) ⁠— Turret

Sometimes it's good to plant some roots. Deploy a turret that fires at enemies within its 180-degree cone. Hold equip to recall the deployed turret. With my turret, I can hold an area pretty well myself while the others cover the angles I can't.
Signature Ability (E) ⁠— Nanoswarm

OK check this out. Throw the grenade. When it lands, it goes quiet. Then, activate the Nanoswarm to deploy a damaging swarm of nanobots and catch the enemy crying.I love this trick!
Ultimate Ability (X) ⁠— Lockdown

You'll have to adjust your timing for the windup, but once you get this device going, it detains all enemies caught in its radius for about 8 seconds. Yeah, enemies can destroy it — except I built plenty more.
Although the use of turrets brings back memories, both good and bad, of Team Fortress 2, Killjoy looks like she'll be a Sentinel in-game, defensive experts who can lock down areas and watch flanks — so we're assuming the turrets will be used in a more defensive capacity as opposed to offensively.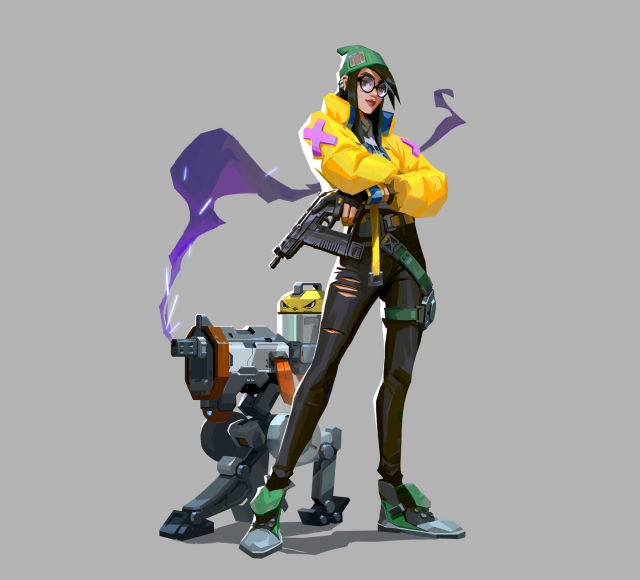 Killjoy's Ultimate ability, Lockdown, also looks pretty powerful, with an area of effect that is very far reaching. Notwithstanding, Lockdown does have a 13-second windup, so it shouldn't be without the realm of players' capacity to either back away from the AOE or find the device Killjoy planted and destroy it before it unleashes its attack. It should also be a clutch ability in retaking, as Killjoy could use the ability outside of an objective and force the enemy off half the point and eliminating corners they could hide in, making the retake that much easier.
What do you think of new Valorant agent Killjoy? Let us know in the comments.
Oh, and if you're wondering what song that is in the background of Killjoy's introduction video, it's Du Bleibst by SAM. Yeah, we think it bops too.