In the last installment of my Legends of Runeterra card art analysis, I explored Jinx, Corina Veraza and some investigators.
In this one, we are going to have a closer look at some Bilgewater cards that might harbor some interesting links. Let's start with Prowling Cutthroat and Crackshot Corsair.
I've noticed some cool details that show that both Prowling Cutthroat and Crackshot Corsair are part of Miss Fortune's crew. The artists have done a tremendous job hiding little clues in these arts.
Prowling Cutthroat's belt buckle, for instance, depicts a heart with 2 guns. Look familiar? That's because it's the very same symbol seen both on Miss Fortune's hat and her ship, The Syren.

I think we can safely assume that Prowling Cutthroat is part of Miss Fortune's crew.
Now if we look at Crackshot Corsair, I've found two interesting clues that link her to Miss Fortune. The first clue is the two monkeys we can see on the rigging of the boat with the Crackshot Corsair; these are the same monkeys we can see in the art of Miss Fortune Level 2 (the monkeys from the Monkey Idol). The second clue is the symbol we can see on the sail on the left of Crackshot Corsair, which is another symbol used by Miss Fortune. We can also see this second symbol in Miss Fortune's Level 2 art.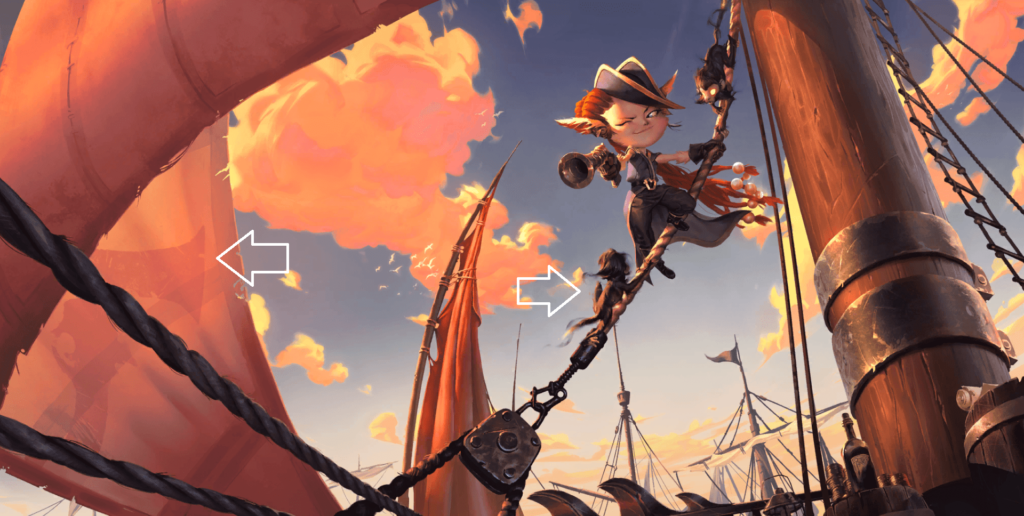 In addition, if you zoom in a considerable amount on the card art of The Syren, Miss Fortune's ship, I believe that you can see Crackshot Corsair on the big canons. Crackshot Corsair is recognizable from her from her small size, her hat and her hair.
Both Prowling Cutthroat and Crackshot Corsair have voice interactions with Miss Fortune in the game (Crackshot even calls Miss Fortune, "Captain."), which pretty much confirms what we guessed from the art.
Now let's go back to the art of Prowling Cutthroat. I have a wild theory about the guy in the background. I did some research on the lore of Miss Fortune; we learn from the official League of Legends Universe website that her parents were killed by Gangplank when she was little. Miss Fortune barely managed to escape with her own life. It's a pretty cool story, I encourage you to read it. Since this event, she swore to avenge her parents and kill Gangplank. What does this have to do with our little Prowling Cutthroat you're probably wondering? That's where it gets wild. We can all agree on the fact that prowling Cutthroat looks like she's infiltrating a ship, probably either to kill someone or to steal something. Now, I may have found another card where the guy behind Prowling Cutthroat also appears: Gangplank Level 1.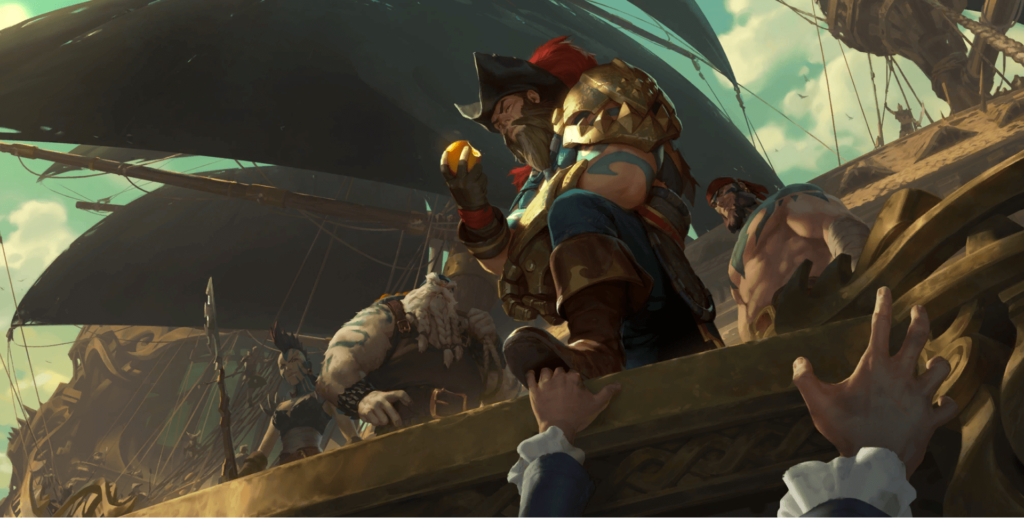 On this particular card art we can see that Gangplank is throwing someone in the water; this someone appears to be wearing a blue vest on a white shirt — which interestingly enough is the same attire of the guy behind Prowling Cutthroat!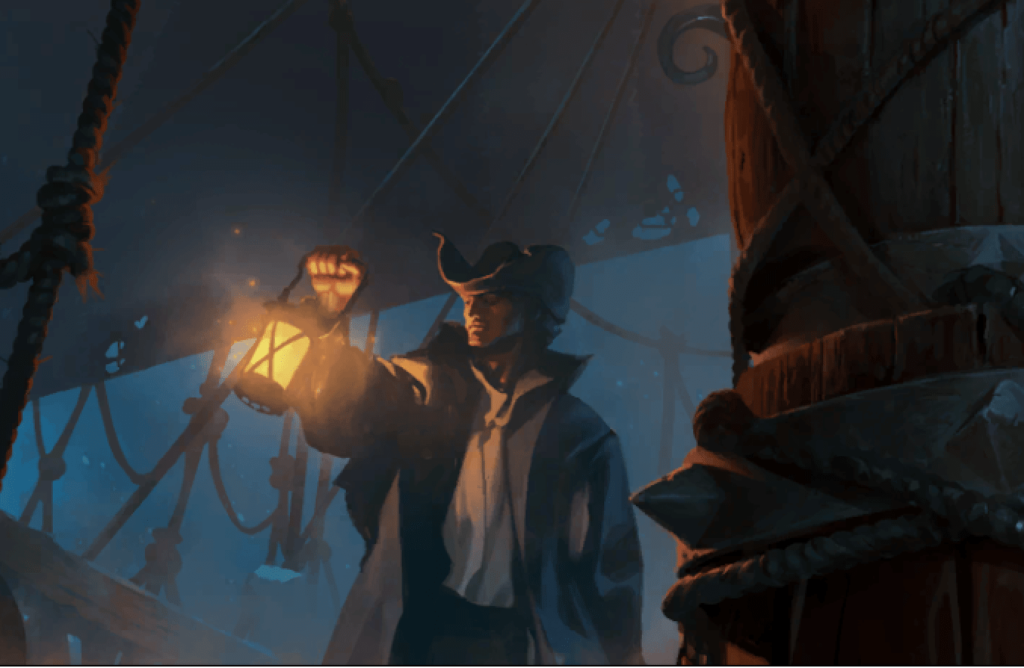 Maybe Prowling Cutthroat has infiltrated Gangplank's ship to steal something, she managed to do it and the next morning Gangplank discovered that the night guard failed to protect his treasure and decides to throw him to the sharks?
If this is correct, what do you think Prowling Cutthroat stole from Gangplank? Sources tell me the answer could be in the flavor text of Monkey Idol, which reads, "This one's a… souvenir. The crew nabbed it from a crazy old rival of mine. Turns out the fool's ramblings about 'ancient, mysterious powers' weren't too far from the truth…" – Miss Fortune.
As always let me know what you think about all this in the comments.
Legends of Runeterra card art credits:
Prowling Cutthroat:
Art Director: Jelena Kevic-Djurdjevic
Sketch & Composition: Gerald Parel
Artists: Valentin Gloaguen & Gerald Parel
Crackshot Corsair:
Art Director: Jelena Kevic-Djurdjevic
Sketch & Composition: Valentin Gloaguen
Artists: Valentin Gloaguen & Gerald Parel
Miss Fortune level 2:
Art Director: Jelena Kevic-Djurdjevic
Sketch & Composition: Gerald Parel
Artists: Gerald Parel & Valentin Gloaguen
The Syren:
Art Director: Jelena Kevic-Djurdjevic
Sketch & Composition: Chris Kintner
Artists: Chris Kintner
Gangplank:
Art Director: Jelena Kevic-Djurdjevic
Sketch & Composition: William Gist
Artists: William Gist, Claudiu Antoniu Magherusan & Gerald Parel