After a unique and buzz-generating BossLogic art livestream which served as the game's official teaser trailer, anticipation for the upcoming Assassin's Creed Valhalla has been at an all-time high.
Today, Ubisoft revealed the official Assassin's Creed Valhalla gameplay overview trailer. The gameplay trailer for the twelfth major installment in the Assassin's Creed franchise showcases Eivor, the ferocious Viking warrior whose role players assume, in a series of visceral combat scenes as she mobilizes raids against English territories with her Viking warships; sounds her horn to send her cohorts rushing into battle; sets homes ablaze with flaming arrows and brutally crushes the heads of her attackers with a warhammer.
Assassin's Creed Valhalla's new enemies and combat system
Assassin's Creed Valhalla will also boast the largest assortment of enemies ever seen in an Assassin's Creed game; some enemies will band together with their allies to unleash special group attacks; others will make clever use of the environment, hurdling boulders and nearby objects from the terrain or even the bodies of their fallen comrades (talk about morbid). There's also footage of enemies such armored knights with shields that can whirlwind swing large halberds which Eivar will have to avoid or risk taking mortal damage.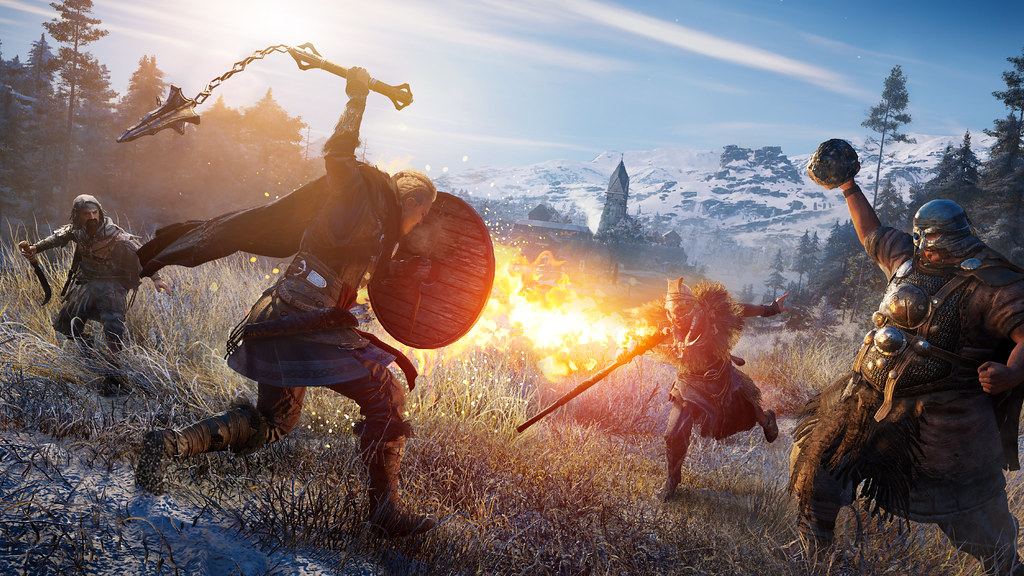 Of course, with myriad new enemies comes a corresponding set of new in-commbat abilities. The trailer shows Eivar tackle-charging an enemy several yards through the front and back door of a household; snaring one with her whip, lassoing them in and then decapitating them; making use of throwing axes and specialized arrows which can incapacitate foes; and discovering the best combination of weapons to dual-wield to customize her fighting style.
Pillaging, exploring and Legendary animals
Combat isn't the only involved facet of the Assassins Creed Valhalla gameplay trailer, though — after the fighting is through, Eivor and crew will batter down doors and pilfer precious cargo from the conquered village. Spoils acquired through raids can subsequently be used to bolster Eivor's settlement, such as augmenting tools, assembling new structures within the village and new settlers. Players must also explore the surrounding wilderness and hunt and forage to replenish health and fortify their equipment; hunting will bring players into the path of Legendary animals, such as enormous wolves and bears which can be tamed and added as companions to one's adventures.
And of course, what would an Assassin's Creed game be without some form of covertness? Players can't just hack and slash their way through every encounter; you'll have to blend into crowds by using a hooded disguise and keep a low profile as well.
In addition to the preceding in-depth look at Assassin's Creed Valhalla's gameplay, the game's Quest Director, Philippe "Phyz" Bergeron provided a 30-minute gameplay walkthrough which delves into assaults, boss fights, flyting, drinking contests, world exploration, and more.
Assassin's Creed Valhalla will be available November 17th on Xbox One, PlayStation 4, Stadia, and PC. It will also be coming to next-gen platforms Xbox Series X and PlayStation 5.
What do you think of Assassin's Creed Valhalla's gameplay thus far? Did these trailers do anything to differentiate the game in your mind from previous installments or other open-world games like The Witcher 3? Sound off in the comments.