Blizzard revealed the card for the focal point of the newest Hearthstone expansion — Kel'Thuzad, the Headmaster of Scholomance Academy himself (whose lore we briefly explored in our last round of Hearthstone: Scholomance Academy card reveals).
The Legendary minion was revealed via an exuberant video courtesy of Amazing LP, which depicts a Frazzled Freshman making her way through the Scholomance Academy grounds on her first day of class, where she practices spells on Target Dummies and eventually encounters a host of familiar faces from Hearthstone lore, such as Garrosh Hellscream, Tyrande Whisperwind, Illidan Stormrage and of course, Kel'Thuzad himself.
Kel'Thuzad takes advantage of the brand-new Spellburst effect, a keyword which will trigger a one-time additional effect after you cast a spell. Kel'Thuzad's particular Spellburst summons any minions which the spell destroyed.
Headmaster Kel'Thuzad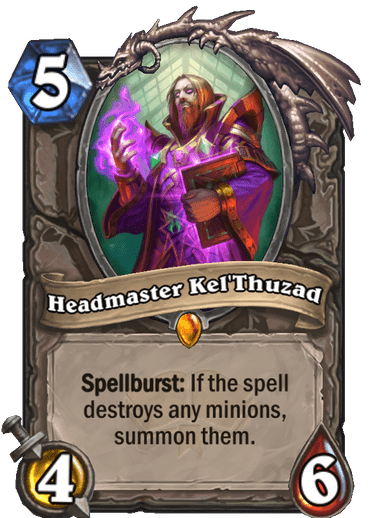 "You wish to know my secrets, hmm? I carry a little bits of tuna in the sleeves of my robe, he loves that. Oh, you meant the risen dead? That was trivial, trivial."
Spellburst: If the spell destroys any minions, summon them.
Type: Minion
Rarity: Legendary
Set: Scholomance Academy
Class: Neutral
Cost to Craft: 1600 / 3200 (Golden)
Disenchanting Yield: 400 / 1600 (Golden)
Artist: James Ryman
Kel'Thuzad's card effect will only work after the spell resolves, so for instance, if the Warrior spell Brawl was cast, Kel'Thuzad would have to survive the Brawl for the spell to trigger.
The card presents some very intriguing possibilities, the most obvious being playing Kel'Thuzad with a board clear like Priest's Shadow Word: Ruin.
The video also revealed brand-new Mage card, Combustion.
Combustion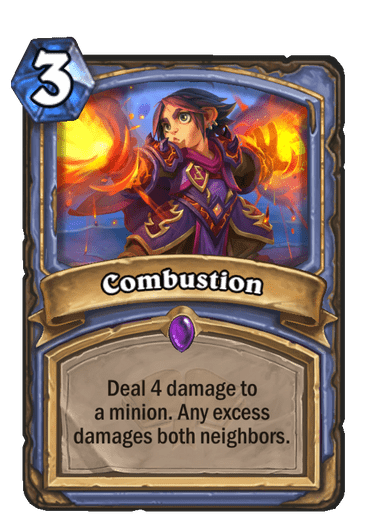 Sally is friends with three Silverhand Recruits conveniently standing in a line. After casting this spell, how many friends does she have left? (Show your work.)
Deal 4 damage to a minion. Any excess damages both neighbors.
Type: Spell
Rarity: Epic
Set: Scholomance Academy
Class: Mage
Cost to Craft: 400 / 1600 (Golden)
Disenchanting Yield: 100 / 400 (Golden)
Artist: L. Lullabi & A. Zemskov
---
What do you think of brand-new Hearthstone: Scholomance Academy cards, Headmaster Kel'Thuzad and Combustion? Let us know in the comments.