"Ooh, it takes some real stones to challenge the Mistress of Illusion. Well? Show me what you've got!"
The illusionist mistress of World of Warcraft's Scholomance instance, Jandice Barov, is the latest Legendary minion in Hearthstone's Scholomance Academy expansion, a Mage and Rogue dual-class card with a very unique Battlecry.
Jandice Barov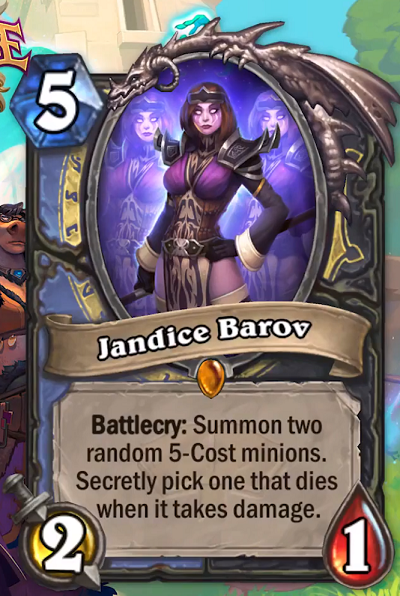 Battlecry: Summon two random 5-cost minions.
Mana Cost: 6
Attack: 2
Health: 1
Crafting Cost: 1600 / 3200 (Golden)
Arcane Dust Gained: 400 / 1600 (Golden)
Rarity: Legendary
Classes: Mage, Rogue
Type: Minion
Will Jandice Barov provide advantageous to Tempo decks in Hearthstone Scholomance Academy? Or will the card prove not much more useful than Former Champ? Let us know what you think in the comments.