"Cannon blast! Who wants to get shot out of a cannon?"
Hearthstone's upcoming Madness at the Darkmoon Faire expansion revealed its initial round of new cards on Tuesday, including a character whose name makes her sound like she's straight out of the Goblins vs. Gnomes expansion: Maxima Blastenheimer, a mischievous looking female gnome lighting who looks nothing short of gleeful as she's about to fire off a cannon on her card art. Maxima also has a potentially powerful (and frustrating to go against) Battlecry which summons a minion from the player's deck, has it attack the enemy Hero and then die.
Maxima's Legendary Hunter minion card is based off the Level 35 cannoneer gnome NPC found at Darkmoon Island in World of Warcraft; she operates the Blastenheimer 5000 Ultra Cannon.
Maxima Blastenheimer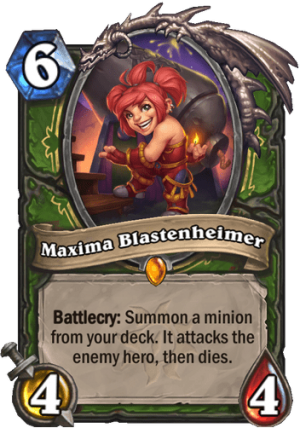 Class: Hunter
Card type: Minion
Rarity: Legendary
Mana cost: 6
Attack: 4 HP: 4
Card text: Battlecry: Summon a minion from your deck. It attacks the enemy hero, then dies.
Source: PlayHearthstone video.
6-mana King Krush anyone? 6-mana charging Deathwing? 6-mana charging Ancient One? The possibilities are frightening, hilarious and meme-worthy.