The theoretical Enhancement Shaman archetype in Hearthstone's upcoming Madness at the Darkmoon Faire expansion gains an integral centerpiece with new Shaman Legendary minion, Inara Stormcrash.
Inara Stormcrash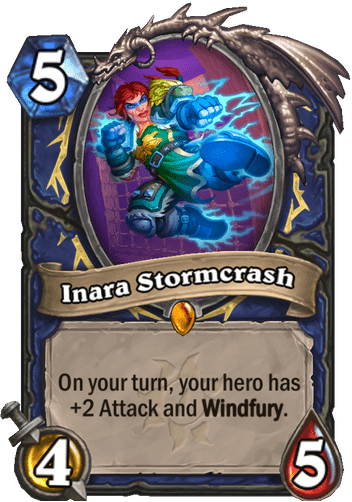 Class: Shaman
Card type: Minion
Rarity: Legendary
Mana cost: 5
Attack: 4 HP: 5
Card text: On your turn, your hero has +2 Attack and Windfury.
Although Inara Stormcrash figures to be the crux of weapon attacking Shaman decks in Madness at the Darkmoon Faire, the card's "Doomhammer as a body effect" might be strong enough to stand on its own regardless of which Shaman deck it's included in, as a few attack buffs and Rockbiter Weapon are enough to make this card lethal without any other auxiliary effects. For instance, equipping Rune Dagger after playing Inara Stormcrash plus 2 Lightning Bolts would be 16 damage for a total cost of 7 mana.
What do you think of Inara Stormcrash? Do you think she'll be an auto include minion in Shaman decks or a potentially dangerous centerpiece for certain Shaman archetypes? Could Inara serve to bolster the ostensibly underwhelming Whack-A-Gnoll Hammer to serviceable levels? Let us know in the comments.