Blizzard and Team 5 announced the latest Hearthstone expansion on Thursday, Madness at the Darkmoon Faire and among the disclosures of brand-new keyword Corrupt, 135 new cards and an all-new game mode called Duels came what was perhaps the most foreboding and shocking reveal of all: the return of the Old Gods.
The Old Gods, the eldritch, Lovecraftian, parasitic entities who ruled primordial Azeroth before the arrival of the Titans were first introduced in The Whispers of the Old Gods expansion in 2016 and featured Battlecries and Card Effects whose repercussions were unique, powerful and still relevant in the Hearthstone meta even all these years later. And now the four Old Gods are back, with four new Legendary cards for the Madness at the Darkmoon Faire expansion which are sure to make their presence felt in the standard meta once more.
Here's a look at the four Old Gods as they'll appear in Hearthstone: Madness at the Darkmoon Faire:
C'thun, the Shattered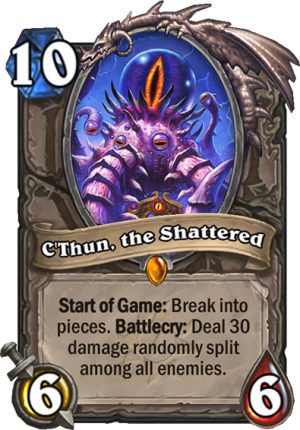 Start of Game: Break into pieces. Battlecry: Deal 30 damage randomly split among all enemies.
Mana Cost: 10
Attack: 6
Health: 6
Rarity: Legendary
A look at all four pieces of C'thun: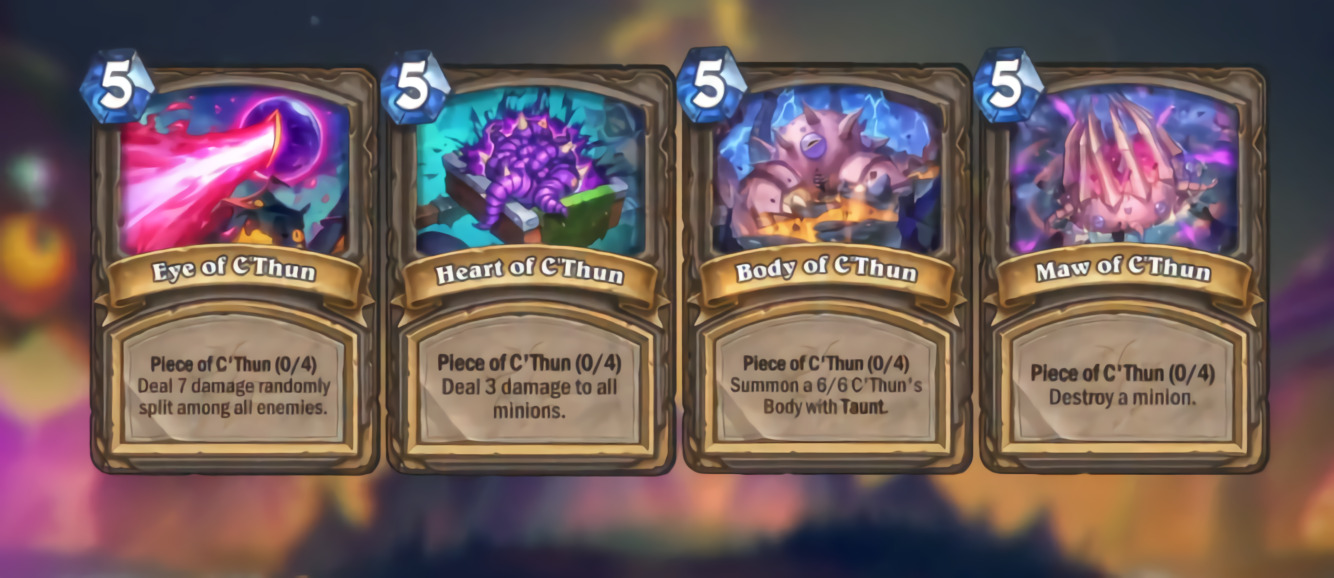 N'zoth, God of the Deep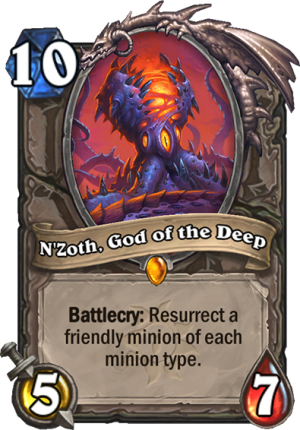 Battlecry: Resurrect a friendly minion of each minion type.
Mana Cost: 10
Attack: 5
Health: 7
Rarity: Legendary
Yog-Sarron, Master of Fate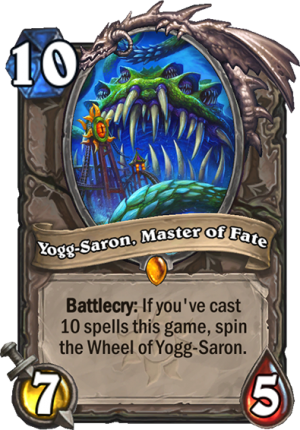 Battlecry: If you've cast 10 spells this game, spin the Wheel of Yogg-Saron.
Mana Cost: 10
Attack: 7
Health: 5
Rarity: Legendary
The Wheel of Yogg-Saron will feature the following results from which to choose:
Cast Pyroblast until someone dies
Destroy all other minions and gain their stats
Cast a random spell for each spell you cast this game
Fill the board with random minions, yours have Rush
Take control of 3 random enemy minions
Fill your hand with random spells, they cost 0 this turn
Y'Shaarj, the Defiler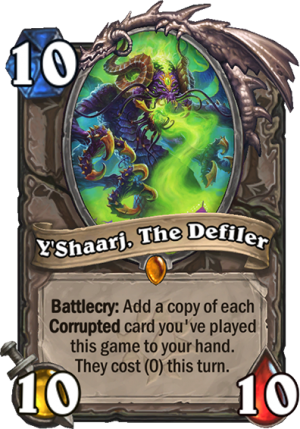 Battlecry: Add a copy of each Corrupted card you've played this game to your hand. They cost (0) this turn.
Mana Cost: 10
Attack: 10
Health: 10
Rarity: Legendary
---
What do you think of the return of the Old Gods in Hearthstone: Madness at the Darkmoon Faire? Sound off in the comments.