Priest retains its identity as the card pilfering class with its latest Legendary for the upcoming Madness at the Darkmoon Faire Hearthstone expansion: The Nameless One. The Nameless One comes with an interesting card effect that not only causes it to become a 4/4 copy of a minion, but to Silence it as well.
The Nameless One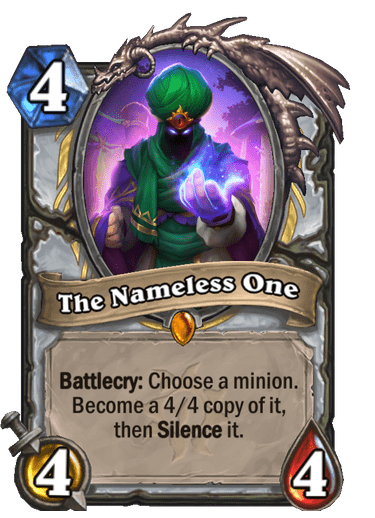 Class: Priest
Card type: Minion
Rarity: Legendary
Mana cost: 4
Attack: 4 HP: 4
Card text: Battlecry: Choose a minion. Become a 4/4 copy of it, then Silence it.
Flavor Text: Used to be called " , the Nameless," but everyone got confused.
Any of you playing Hearthstone expansion Bingo out there? In that case, feel free to cross "Annoying Priest Card" off your Bingo card. Just imagine the frustration of your opponent were you to play The Nameless One against a Rattlegore. Or a Tirion Fordring. Or pretty much any valuable keyword minion with Taunt, Divine Shield and/or Deathrattle. We foresee this card being very effective against Libram Paladins.
What do you think of the upcoming Priest Legendary minion The Nameless One in Hearthstone: Madness at the Darkmoon Faire? Let us know in the comments.