"What, may I ask, are you doing here? Put on your student's attire, and study!"
Vectus, a human spellcaster who eventually becomes a skeletal mage mini-boss in World of Warcraft's Scholomance instance is the latest neutral Legendary minion in Hearthstone's Scholomance Academy expansion. His Battlecry summons two 1/1 Whelps which will gain a Deathrattle from Deathrattle minions who have already died in the game, which should open up some very fun deckbuilding opportunities.
Vectus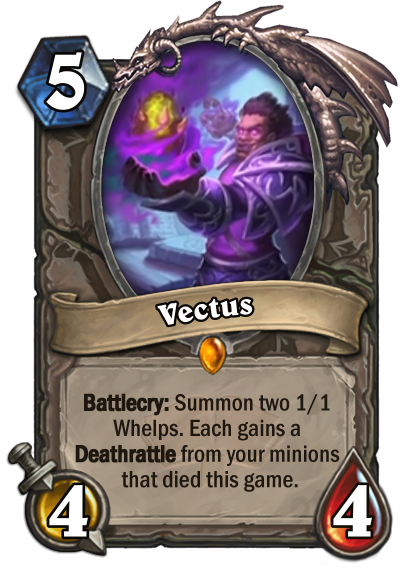 Battlecry: Summon two 1/1 Whelps. Each gains a Deathrattle from your minions that died this game.
Mana Cost: 5
Attack: 4
Health: 4
Crafting Cost: 1600 / 3200 (Golden)
Arcane Dust Gained: 400 / 1600 (Golden)
Rarity: Legendary
Class: Neutral
Type: Minion
Obviously Vectus should prove integral to Deathrattle decks but it could also find some use in decks like Face Hunter which run Leper Gnome and Kobold Sandtrooper as well.