The latest Paladin and Priest legendary in upcoming Hearthstone expansion, Scholomance Academy, has been revealed: High Abbess Alura. Alura's Spellburst synergy casts a spell from the deck, which will target Alura if possible.
High Abbess Alura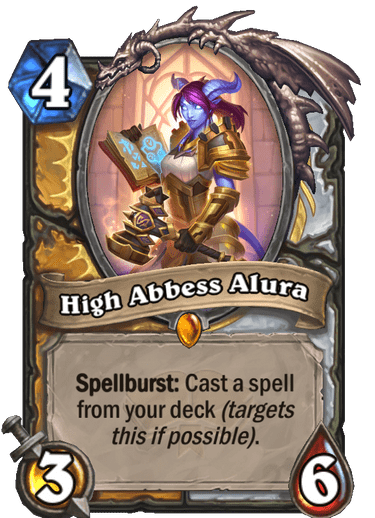 She's all about hitting the books. Literally.
Spellburst: Cast a spell from your deck (targets this if possible).
Type: Minion
Rarity: Legendary
Set: Scholomance Academy
Class: Paladin, Priest
Cost to Craft: 1600 / 3200 (Golden)
Disenchanting Yield: 400 / 1600 (Golden)
Artist: Anton Zemskov
Imagine pulling a Libram of Hope on Turn 4? That's pretty disgusting value. There's always the chance High Abbess Alura could also pull Libram of Justice or Consecration from your deck as well, but it's well worth the risk. As for Priest, this card seems less useful, as Priest usually runs plenty of removal Spells, but it'll be interesting to see if there's some use for Alura that can't be ascertained from first glance.
What do you think of new Paladin and Priest Legendary minion, High Abbess Alura? Let us know in the comments.