If Hearthstone's upcoming Scholomance Academy expansion is an homage to Hogwart's School of Witchcraft and Wizardry from the Harry Potter series, then here's Hearthstone's analogue to Professor Severus Snape: Professor Slate, a Legendary Hunter minion with a predilection for poisons. (Slate can be found in the Viewing Room area of the World of Warcraft Scholomance instance.)
Professor Slate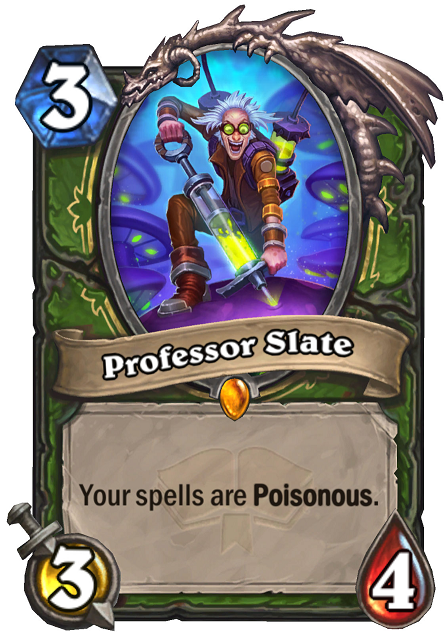 Class: Hunter
Card type: Minion
Rarity: Legendary
Mana cost: 3
Attack: 3 Health: 4
Card Text: Your spells are Poisonous.
Slate opens up some interesting possibilities, particularly with Hunter Secrets Explosive Trap and Snipe, which are bolstered by Spell Damage and thus affected by Slate's card effect. Slate should also synergize well with the 1-mana-cost Twinspell Rapid Fire. (Grievous Bite also gets a big boost in Wild with Slate on the board.) For a full list of Hunter spells that can be used in cohesion with Professor slate, check out this list from the official Hearthstone website.
What do you think of Professor Slate in the upcoming Hearthstone Scholomance Academy expansion? Is he a fitting Legendary for the Hunter class? Let us know in the comments.