Hunters and Demon Hunters gain an interesting new Legendary dual-class card which will make both a player's minions and their Hero immune while attacking: Ace Hunter Kreen.
Although both the Hunter and Demon Hunter classes' primary strategy right now revolves around going face and not trading minions, this card could serve as a board clear plus a body or a minion which should make it easy to clear Taunt on its played turn.
Ace Hunter Kreen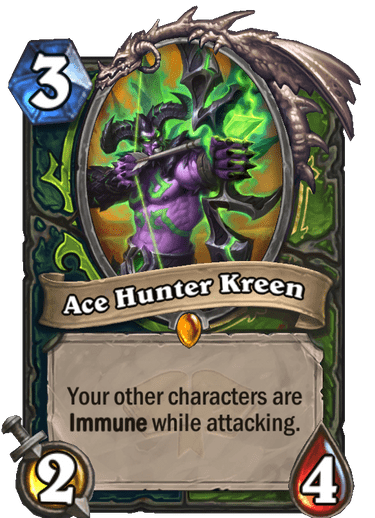 This grandmaster marksman loves winning tournaments and eating a bit of ice cream.
Your other characters are Immune while attacking.
Type: Minion
Rarity: Legendary
Set: Scholomance Academy
Class: Demon Hunter, Hunter
Cost to Craft: 1600 / 3200 (Golden)
Disenchanting Yield: 400 / 1600 (Golden)
Artist: James Ryman
Ace Hunter Kreen seems like a powerful card at first glance, but will it see play in Aggro Hunter and Demon Hunter decks? Or will it be more along the lines of a slightly more powerful Deathspeaker? Maybe it'll find a home in Highlander Hunter decks, where trading minions and establishing board presence is much more necessary?
Let us know what you think about Ace Hunter Kreen in the comments.