Talk about a crazy Battlecry effect. Enter one of Hearthstone Scholomance's quirkiest new Legendary minions, Lorekeeper Polkelt, whose Battlecry flip flops the user's deck from highest to lowest.
Lorekeeper Polkelt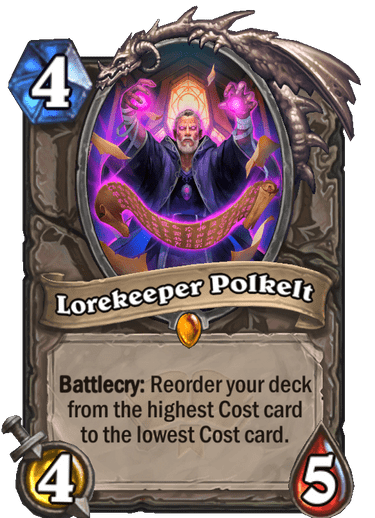 Battlecry: Reorder your deck from the highest Cost card to the lowest Cost card.
Type: Minion
Rarity: Legendary
Set: Scholomance Academy
Class: Neutral
Cost to Craft: 1600 / 3200 (Golden)
Disenchanting Yield: 400 / 1600 (Golden)
Artist: Hideaki Takamura
It remains to be seen how this unique new card effect plays out, but it's certainly one that'll be a lot of fun to try out and make for some creative deckbuilding.