A creative neutral weapon that helps with card draw? What is this, Magic: The Gathering?
Sphere of Sapience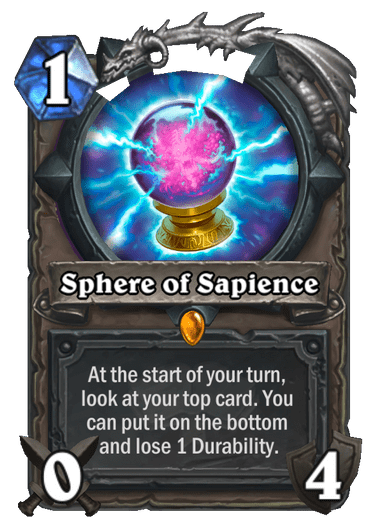 This is what it sounds like when spheres scry.
At the start of your turn, look at your top card. You can put it on the bottom and lose 1 Durability.
Type: Weapon
Rarity: Legendary
Set: Scholomance Academy
Class: Neutral
Cost to Craft: 1600 / 3200 (Golden)
Disenchanting Yield: 400 / 1600 (Golden)
Artist: Jakub Kasper
Sphere of Sapience should definitely see play in Scholomance Academy, especially since it's a neutral weapon and not a Mage-exclusive, like we originally thought on first glance. This could potentially yield some OP combos with Druid's Twig of the World Tree weapon in Wild. Notwithstanding, very cool card that we can't wait to try out.